Windows 7 Password Reset Skills on Laptop and Desktop Computer
Forgot your Windows 7 password and are locked out of your Windows 7 laptop or desktop computer? This is a common but awkward question. And wondering how to recover Windows 7 password to regain your access? In fact you will found that you can have quite abundant choices. Now in this article, I'd like to sort through your thoughts by listing several most easy but effective tips to help you reset windows 7 password on various laptop and desktop computers for your comparison and to choose from, then let you get into windows when you forget login password and locked out. Go on reading to check out more skills.
Comparison and Choose One Skill to Check Out More:
Skill 1. Free Reset Windows 7 Login Password with Password Reset Disk
With a password reset disk created previously in hand, you needn't to worry about forgetting or losing your Windows 7 password. It is the easiest and most energy-saving way to reset forgotten Windows 7 password with easy-to-catch instructions. But the precondition is that you have created such a password reset disk before. If any questions on how to create a Windows 7 password reset disk, you can refer to this link: http://windows.microsoft.com/en-hk/windows7/create-a-password-reset-disk. Now here we focus on how to use created password reset disk to recover Windows 7 login password.
1. Start your Windows 7 normally, and when it comes to the login screen, you type in a wrong password, and a message saying that your user name or password is incorrect will appears, you click OK.
2. Insert your Windows password reset disk and click the link Reset Password under the password box.
3. When the Password Reset Wizard window appears, you can reset your windows 7 password by following the instructions.
Skill 2. Recover Windows 7 Password by Accessible Administrator Account
Besides recovering your Windows 7 password with Windows password reset disk, another acceptable way is with the help of another accessible administrator account. It is as easy as the following steps:
1. Log on with that administrator account that you are accessible.
2. After you login in, you right click My Computer icon and select the item Manage to enter Computer Management screen.
3. In the left pane, you select Local Users and Groups option and then open Users folder.
4. Right-click the account that you need to reset its password and then click Set Password option to reset its password.
5. Type in and confirm the new password and then save the change.
Skill 3. The Best Way – Reset Windows 7 Password with Asunsoft Windows 7 Password Software
If you forgot your Windows 7 password and don't have a password reset disk or another administrator account, you won't be able to recover your Windows 7 password that easy. Generally, you may need to reinstall your Windows. But the good news is that Asunsoft Windows 7 Password Geeker can solve this kind of problem perfectly and easily demanding no preconditions only another accessible computer and a USB flash drive or CD/DVD disk. That is why I said it is the best way to recover the password on your Windows system. Now let's see its specific steps as follows:
How to Recover Windows 7 Password without Reset Disk.
The followings will show you how to recover your forgotten Windows 7 password without password reset disk by using Asunsoft Windows 7 Password Geeker.
Step 1: Download and install Asunsoft Windows 7 Password Reset Software.
How to get this software:
Download Windows 7 Password Geeker free trial version.

Or purchase the full version of Windows 7 Password Geeker, install it on a computer you can access as administrator. You can install it in Windows 8/7/Vista/XP/2012/2008/2003/2000.
After you click Buy Now button on our official website, it will navigate you to another order platform, Swreg, which is one of the most popular e-commerce platform around the world. You will receive an e-mail with download link in it when you successfully process the purchasing. The procedure is easy and secure.
Step 2: Create a Windows 7 password recovery boot disk with Asunsoft Password Reset Tool.
After successfully install this password reset for Windows 7 software, you can start it.
Option 1: Create a password recovery CD/DVD disk:
1. Insert a writable CD/DVD disc to your computer. Choose CD/DVD option as the media type to burn.
2. In second step, select the CD/DVD disk name from the pull-down list. Hit Begin burning button to start burning.
After successfully complete burning, transfer the disk to your locked computer.
Option 2: Create a password recovery USB disk, do the following steps:
1. Plug in a writable USB drive to your computer. Choose USB Device as the media type to burn.
2. Specify your USB drive name from pull-down list. Hit Begin burning button to start burning.
After successfully complete burning, transfer the disk to your locked computer.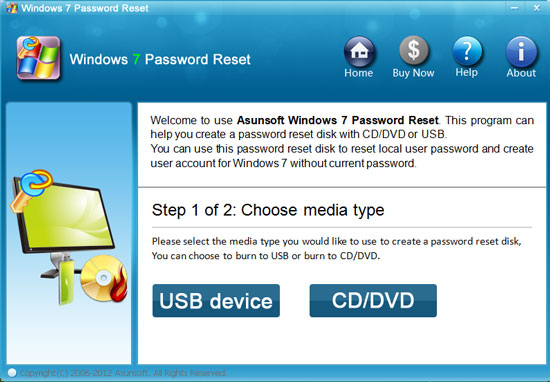 Step 3: Set the locked computer to boot from CD/DVD-ROM or USB flash drive
Start your locked computer and press BIOS entry key as soon as possible to get into the BIOS SETUP table, change the devices boot order, After you saving the change, your computer will restart automatically and boot from your recovery disk.


Option 1: Set Computer to Boot from CD/DVD-ROM Disk
1. Insert your CD/DVD Password Recovery Disk. Start/Restart your computer and press F2/DELETE(BIOS Entry KEY) immediately and repeatedly until the SETUP table pops up.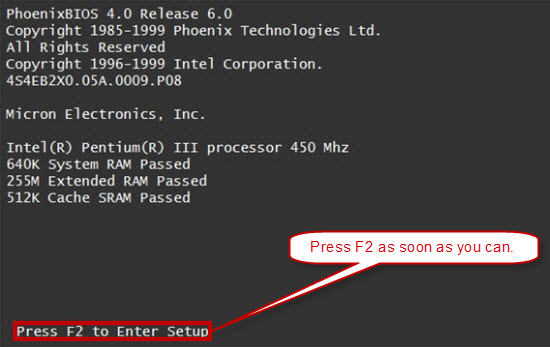 2. BIOS(COMS) setup main menu appears, now you can use up/down key to choose BIOS FETURES SETUP. Hit Enter key to enter BIOS FEATURES SETUP table.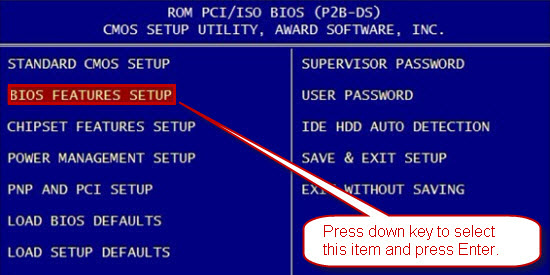 3. Press ↑/↓key to highlight Boot Sequence and hit Enter, choose A, CDROM, C for the Boot Sequence device. Then press F10 to save your setting and reboot your computer. Your computer will boot from your cd/dvd password recovery disk.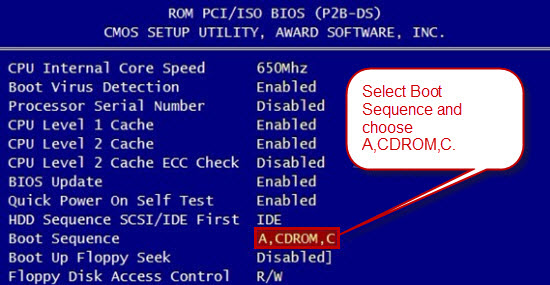 More examples: How to boot computer from CD/DVD-ROM

Option 2: Set Computer Boot from USB Flash Disk
Plug in your USB password recovery disk you have created with USB Flash Drive and set your computer to boot from USB. If your BIOS version is AMI, follow the procedures. It is easy and important.
1. Press F2/Delete (BIOS Entry Key) as soon as you can while your PC reboots until the BIOS SETUP screen appears.
2. Looking for a tab relating to booting in the BIOS SETUP screen, it is called "Boot" in this example. You can use ←/→ key to select and open it. You'll see a submenu that's specific to the PC Drive boots sequence. Use ↓/↑key to highlight "Hard Disk Drives", hit "Enter".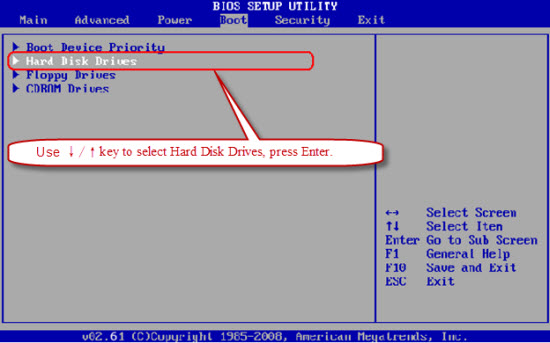 3. Use ↓/↑key to select "1st Drive", hit "Enter" key.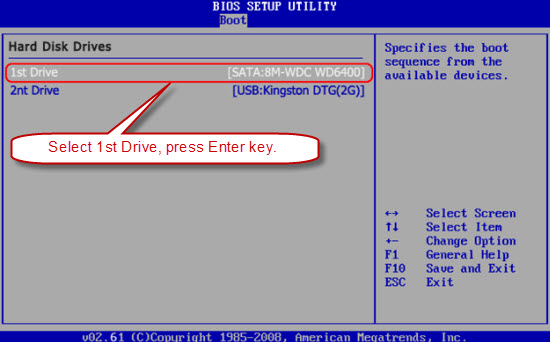 4. Go on enter Boot Settings, then the Boot Device Priority item.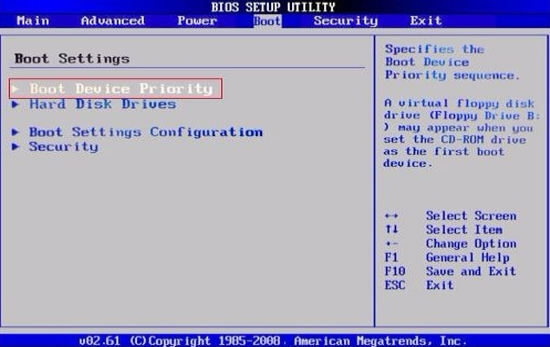 5. Enter Hard Disk Drives.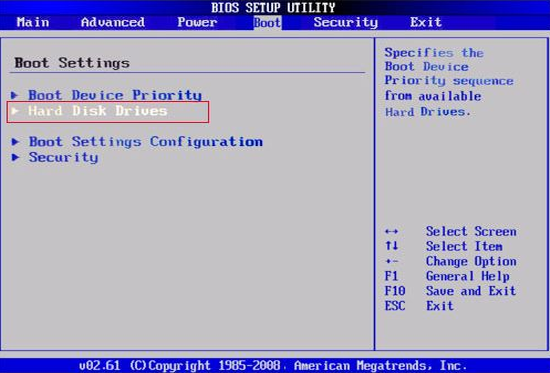 5. Select "USB: your USB brand", and press "Enter" key to set the USB Flash drive as the first bootable option.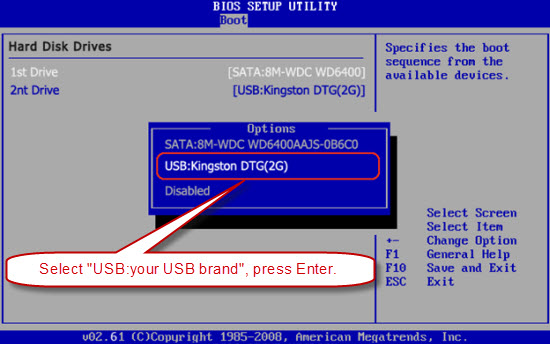 6. Then you can see USB Flash Drive is the first boot device.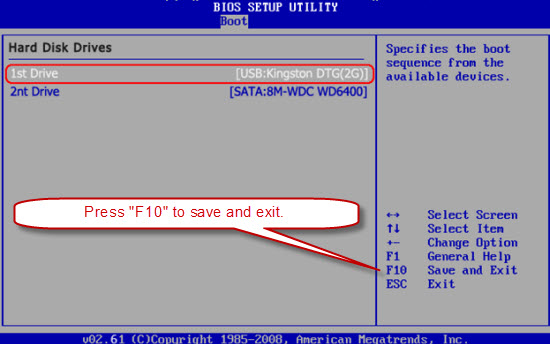 7. When you done the operations, press "F10" to save and exit. Select "OK" and press "Enter" key, then the computer will reboot and boot from USB Flash Drive disk.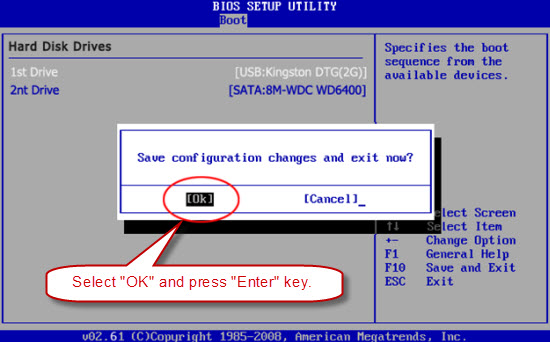 More examples: How to boot computer from USB flash drive
Step 4: Reset Windows 7 password with a few clicks.
After the computer booting from CD/DVD or USB password recovery disk,, Windows 7 Password Geeker will take about one minute to startup and display a friendly interface.
4.1 Select your Windows 7 system if Windows 7 is not the only Opreating System installed on your computer.
4.2 All users of your Windows 7 Operating system will be listed. You click the user you want to reset its password from the list. (Here take Administrator account as an example)
4.3 Click Reset Password button, the program will prompt you that the password will be set to blank. Click Yes to continue.

4.4 Now you can see the password of Administrator has been reset to Blank. Now you click Reboot button to restart your computer. When a confirm massage pops up, eject the Windows 7 Password disk first, then click Yes to restart. After restarting, you can log on windows 7 without a password.
Note: The Administrator account is Windows 7 built-in Administrator which was disabled by default when you install Windows 7 system. If you never enable it, it would not appear on your login screen. After resetting its password, this account will be enabled and you can logon with it. If you just want to recover other user's password, redo 4.2 and 4.3.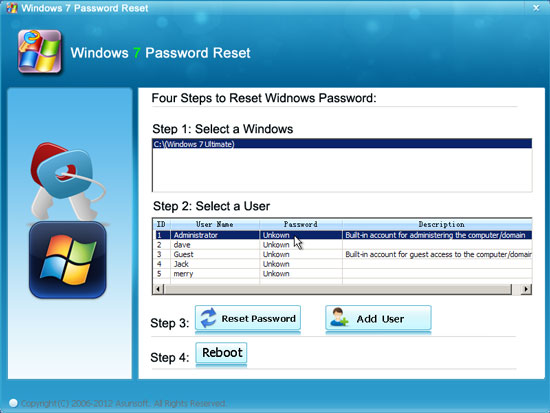 How to add a new admin account to Windows 7 without log on Windows.
Asunsoft Windows 7 Password Geeker supports adding new administrator account to Windows 7 without login. This is a useful function for people who were locked out of computer or can not create new user in Windows 7. Simply click Add User button, type in your new user name and password, click OK. Then you can login your locked computer with this account. You also can click this link for more info: How to add a new user to Windows 7 offline.
Support All Windows 7 Laptop and Desktop Computer
Dell PC
Dell PC, Dell Inspiron 11 Series, Inspiron 14 Series, Inspiron 14z Series, Inspiron 14R Series, Inspiron 14R Turbo Series, Inspiron 15 Series, Inspiron 15z Series, Inspiron 15R Series, Inspiron 17 Series, Inspiron 17R Turbo Series, Inspiron M421R Series, Inspiron M521R Series, Alienware 14 Series, Alienware M14x Series, Alienware 17 Series, Alienware 18 Series, Latitude 14 Series, Latitude 6430u Series, Latitude E6540 Series, Latitude E7240 Series, Latitude E7440 Series, XPS 11 Series, XPS 12 Series, XPS 13 Series, XPS 15 Series, Vostro 2420 Series, Vostro 2421 Series, Vostro 2521 Series, Vostro 5460 Series, Vostro 5470 Series, Vostro 5560 Series, M3800, M4800, M6800, 400, 4400, Dimension, Precision, Optiplex etc.
HP PC
HP Pavilion 14 Series, Pavilion 14-n Series, Pavilion 15 Series, Pavilion 15-n Series, Pavilion M4 Series, Pavilion TouchSmart 11 Series, Pavilion TouchSmart 14 Series, dv4 Series, 1000 Series, Envy 4 Series, Envy 6 Series, Envy 11 Series, Envy 14 Series, Envy 15 Series, Envy 17 Series, Envy TouchSmart 14 Series, ENVY Pro Series, Envy dv6 Series, g4 Series, g6 Series, 9470m Series, CQ45 Series, Compaq Series, 2540P Series, 2570P Series, 2760P Series, 8440 Series, 8460 Series, 8540P Series, 246 Series, 450 Series, 455 Series, ZBook 14 Series, ZBook 15 Series, ZBook 17 Series, ProBook 430 G1 Series, ProBook 440 G1 Series, ProBook 445 G1 Series, ProBook 450 G1 Series, Revolve 810 G1 Series, 4230s Series, 4341s Series, 4441s Series, Split 13 Series, Spectre XT 13 Series, Spectre XT Pro Series, EliteBook 840 G1 Series, EliteBook 8470w Series, Chromebook 14 Series, TouchSmart 15 Series etc.
Acer PC
Acer Aspire, Power, Veriton, Extensa, Ferrari, TravelMate, Altos, Altos 600 etc.
ThinkPad PC
ThinkPad G40, G41, R40, R40e, R50/e/p, R51, R52, T40/p, T41/p, T42/p, T43/p, X40, X41, X41 Tablet, R51e, R60/e/i, R61/e/i, T60/p, T61/p, X60/s, X61, X61 Tablet, Z60m/t, Z61e/m/p/t, Reserve Edition, T400, T400s, T410, T410i, T410s, T410si, T500, T510i, W500, W510, W700, W700ds, W701, W701ds, X200, X200s, X200si, X200 Tablet, X201, X201i, X201s, X201 Tablet, X300, X301, 240 series, 390 series, 570 series, i Series 1200, i Series 1300, i Series 1400, i Series 1500, i Series 172x, A20, A21, A22, A30, A31, R30, R31, R32, S30, S31, T20, T21, T22, T23, T30, X20, X21, X22, X23, X24, X30, X31, TransNote, 310, 315, 310E/ED, 315ED, 365C/CS, 365CD/CSD, 365E/ED, 365X/XD, 360, 355 series, 380, 385 series, 560 series, 600 series, 701C/CS, 75x series, 76x series, 770 series, 500, 510, 700/C, 720/C, 710T, 730T etc.
Gateway PC
Gateway DX, FX, One, GM, GT, GX, Profile, Astro etc.
Fujitsu PC
Fujitsu LifeBook, Esprimo, Amilo, Tablet, DeskPower etc.
NEC PC
NEC PowerMate, Versa, W-Series etc.
Toshiba PC
Toshiba Portégé, Satellite, Tecra, Equium, Toshiba Equium etc.
Sharp PC
Sharp Notebook Laptops, Actius UltraLite etc.
Shuttle PC
Shuttle Glamor G-Series, D'vo, Prima P2-Series, Workstation, X Mini XPC, Surveillance etc.
More About Windows 7 Password Reset:
Related Articles: