Excel Password Clearer
Asunsoft Excel Password Clearer is one of the fastest password recovery software which was designed to remove lost password for Microsoft Excel. It can remove lost excel password within a few seconds nomatter how long and complex of the password is. It supporting all versions of Microsoft Excel from version 97 to 2010 and online decryption service. Easy-to-use and safe that even a PC novice can remove Excel password without file damaged.

Secure Works:
It is more likely than you might think it is that one day you'll face the task of restoring a lost Excel password. Asunsoft Excel Password Clearer allows you to remove an "open" password in Microsoft Excel (remove sheet and workbook protection). Online document decryption service help you instantly remove your Excel Open password while the content remains on your computer and is not sent anywhere. Password Removal only takes you about 10 seconds.
It is extremely convenient in use. It has a simple one-window interface, which allows you to specify a password protected sheet and workbook. Once you clicked on the Remove button, it will remove the Open password and decrypt the content for you instantly.
Key Features
Support all versions of Microsoft Excel 97 - 2010(*.xls).100% recovery rate.
High recovery speed: Instantly remove any unbreakable Excel document password.
Online password recovery service with guaranteed privacy.
Instant recovery of Microsoft Excel document password regardless of its length and complexity.
Support for multilingual passwords(e.g. containing both Latin characters and hieroglyphs).
Friendly interface and easy-to-use even a kid use it.
Professional, timely and free technical support is always for you.
Limitations of the Trial Version
Excel Password Clearer free trial version allows you to view the first 10 rows of your Microsoft Excel documents protected with "open" password.
Screenshot: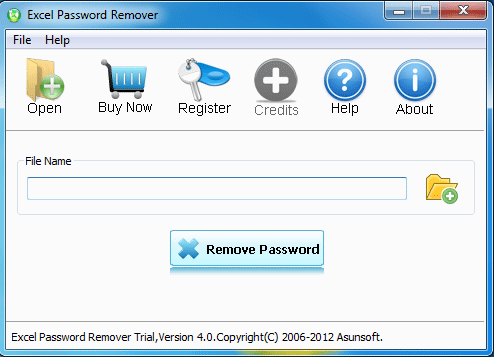 You May Also Like:

An all-in-one password recovery tool designed for Windows, Excel, Word, Access, PowerPoint, Outlook, RAR/WinRAR, ZIP/WinZIP, PDF password recovery.

Windows Password Geeker Personal
Reset lost administrator and other user's passwords for Windows 8/7/Vista/XP/2000. Supports run from CD/DVD or USB. Special function for creating new admin account without logining.