2 Methods to Boot Your Android Device into System Recovery Mode
System Recovery mode plays a very important role in Android device including smartphone and tablet. It has two major functions: recovery and wipe. By entering recovery mode android users can wipe some data stored in your current system, restore the factory settings, install system update and so on. So if you are a android device user then it is very necessary to know how to boot your phone/tablet into system recovery mode. Generally there are at least 2 simple methods.
Before enter recovery mode you need to do:
1. Backup your text messages and contacts.
2. Make a backup for your important application.
3. Power off your android phone/tablet.
Note: If you cannot power off your device by long press power key,just directly remove the battery and then put it back.
How to boot into recovery mode?
1. By pressing key combination
Step 1: Press Power and Volume up keys together for a few seconds.
Step 2: Android system recovery mode should be displayed to you and release the keys.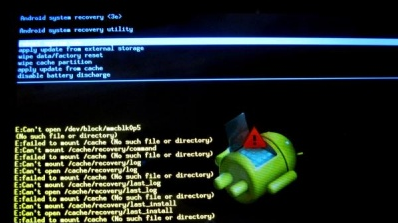 Note: For samsung branded devices you need to simultaneously press Power, "Home" and Volume up keys to enter recovery mode.
2. By Quick Boot tool
Before using this method to enter recovery mode make sure your device rooted. Then follow the steps:
Step 1. Go to Google Play to download the Quick Boot tool and then download this application on your smartphone tablet. .
Step 2. Run the app.
Step 3. Click Recovery tab to select it.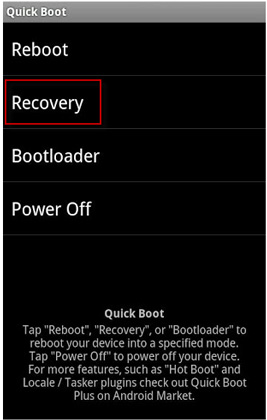 Step 4. Then your device should reboot into android system recovery mode.