How to Recover Your MS Access Password - Choose Optimum Attack Type to Recover
Setting a password to protect your Microsoft Access file is a good practice to effectively prevent unauthorized access and information leak just like you setting a Windows password to keep others off your computer. You might also encounter the problem of forgetting or losing your Microsoft Access password either because of long time no using or password mixing or other possible cases. So under these occasions, I bet you have to try to recover your MS Access password in one way or another.
Finding back forgotten MS Access password can be very easy when you choose a suitable and professional Access password recovery tool. In fact, all password recovery tools are much similar in function, and now follow me to check how to achieve by taking Asunsoft Access Password Geeker for an example.
How to Recover Access Password in Optimum Attack Type
Why I said you can recover your password in optimum attack type is that Asunsoft Access Password Geeker has provided four attack types for choice according to different situations, which I will give more detailed descriptions in the following sections.
1. Download and install Asunsoft Access Password Geeker.
2. Run it and when its main interface shows, click Open button or click File menu and then select Open Files sub-item.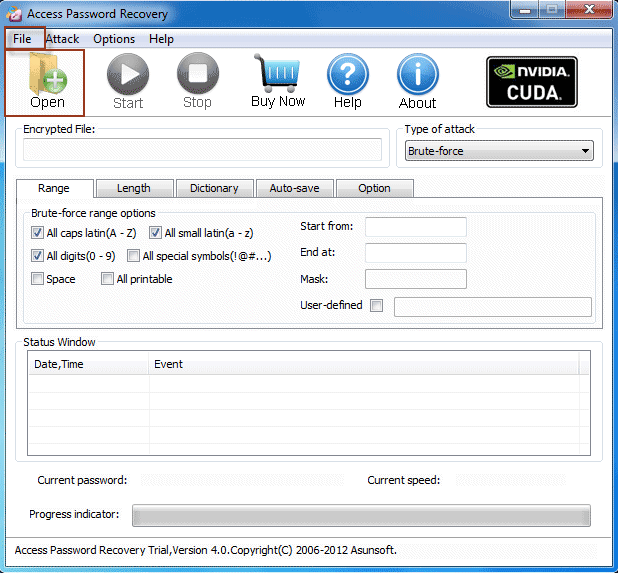 3. Browse the target Access file you forgot its password in the Open File dialog, select it and then click Open button.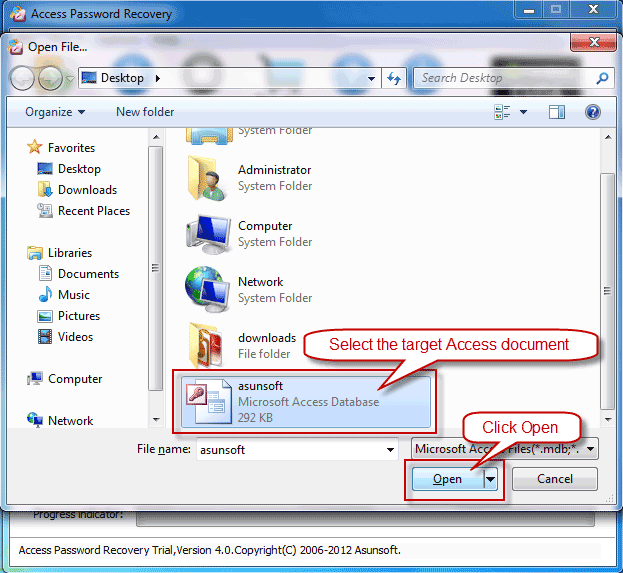 4. Select the most suitable Attack type according to your own situations by clicking the pull-down list under Type of attack.
.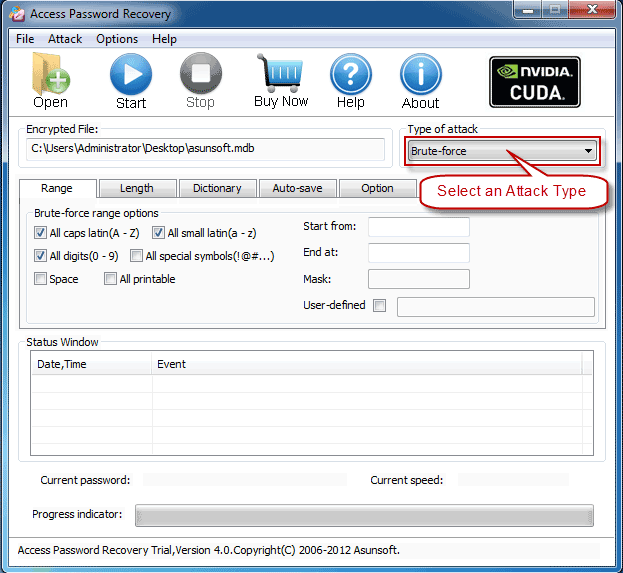 Four attack types are provided altogether, among which
Brute-Force Attack will try all possible password combinations to recover lost Access password.
Mask Attack can largely reduce password recovery time if you still remember the lost/forgotten password partially.
Dictionary Attack can quickly find your password back if you use regular words or phrases for password which come in the range of built-in dictionary.
Smart Attack can automatically and smartly try all possible characters combinations including all printable characters like numbers, letters and marks.
5. Make attack settings corresponding to attack type you chose. In Access Password Geeker user guide, you can find more details about attack settings.
6. Now click Start button or click Attack menu and then select Start sub-item to start your password recovery.
The recovering time depends on the complexity of your password and the attack type you chose. If you chose the optimum attack type for your password recovery, it will save you time.
7. When it finds back your password successfully, click Copy button to copy the recovered password.
8. Then click Open button to open the target Access file and paste the copied password in the Password Box to access your encrypted Access file.