How to Recover Outlook PST Password to Regain Access
Outlook is free and web-based email portal services launched by Microsoft, which is nowadays widely used for business purposes. So just imagine how frustrating it would be if one day you lost your access to your Microsoft Outlook emails because of password forgetting, virus attack or other possible reasons.
Are you totally at loss what to do under the above situations? No need at all! Because only a small Outlook password Geeker can let you see the bright clouds if you keep to the following instructions on how to recover your Outlook pst file password.
Here's How to Recover Microsoft Outlook Password
You can recover the password to regain access to your Microsoft Outlook with Outlook Password Geeker by doing the followings:
1. Get Outlook Password Recovery Tool – Download the free trial version of Asunsoft Outlook Password Geeker
2. Import Locked Outlook File
On the main interface, click Open button or File menu and then choose Open Files.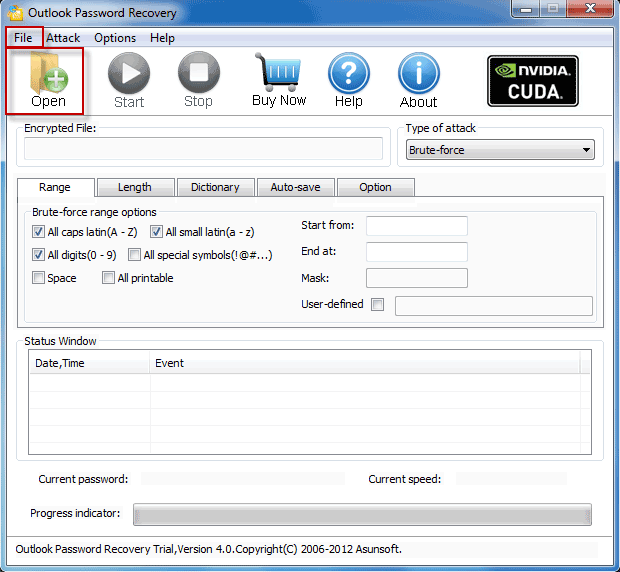 Browse to choose the locked Outlook file and then click Open button to upload it from your computer to the Outlook password recovery program.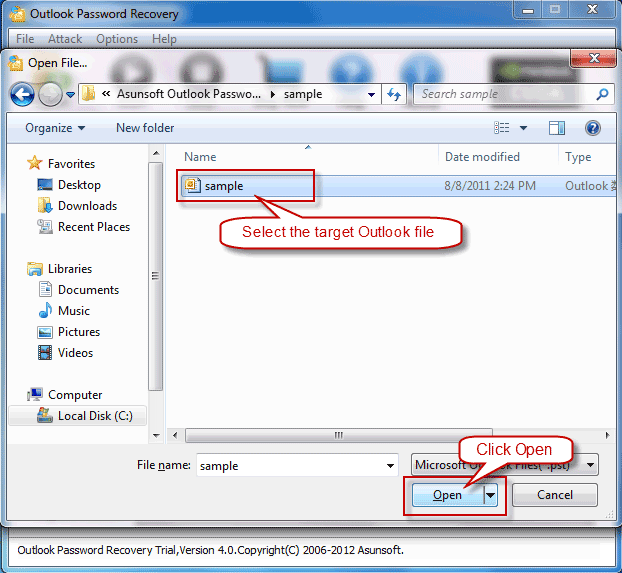 3. Choose Attack Type and Make Corresponding Settings
Asunsoft Outlook Password Geeker has provided four advanced password-retrieving techniques, namely Brute-force Attack, Mask Attack, Dictionary Attack and Smart Attack.
Brute-force attack can try all possible password combinations to help recover your Outlook password efficiently after setting a password range and length if you remember nothing but roughly its range and length.
Mask attack can help you recover Outlook password with the least time by setting a password range and defining a mask telling the program the part you still remember.
Dictionary attack can help you recover Outlook password by selecting the built-in dictionary or creating a dictionary according to your request.
Smart attack can help recover Outlook password automatically and smartly without any manual settings.
Should still any confusions, please refer to Outlook Password Geeker User Guide for more details.
4. Start to Recover Forgotten or Lost Outlook Password
Click Start button or click Attack menu and then select Start button and you will get your Outlook password back soon.
5. Open the Password-locked Outlook File with the Recovered Password
As long as your password has been recovered, it will pop up a window in which you click Copy button first to copy the recovered password and then click Open button and paste the copied password to open your locked Outlook file. And then you regain access to your Outlook file successfully.