How to Recover PowerPoint Password Quickly If Password Forgotten
Microsoft PowerPoint documents can utilize two passwords to prevent unauthorized access and edit:
Password to open
The Password to open requires a user to enter a password to view the document.
Password to modify
The Password to modify requires a user to enter a password to make changes to the document.
To protect your important contents in PPT from being leaked or peeped, you may set a password for your courseware, important work paper. But what may disappoint you is that you may forget your PowerPoint password. Just imagine how embarrassing it would be if you are about to give a PPT presentation but found that you cannot open it because you forgot its password. Then how can you resolve this kind of embarrassing under such an occasion with so many people looking at you?
No panic! As long as you have access to the Internet, Asunsoft can help you open the encrypted PowerPoint file by recovering forgotten PowerPoint password quickly with only a few minutes. Now let's see how it makes.
Quick Recover Your PowerPoint Password
PowerPoint Password Geeker is a professional program especially for PowerPoint password recovery. It provides four attack types to find back forgotten PowerPoint password with the least recovery time.
When you encounter such an embarrassment, download and install Asunsoft PowerPoint Password Geeker here directly. After installation, you run it and then follow the instructions to perform quick recovery.
1. In PowerPoint Password Geeker main interface, click Open button.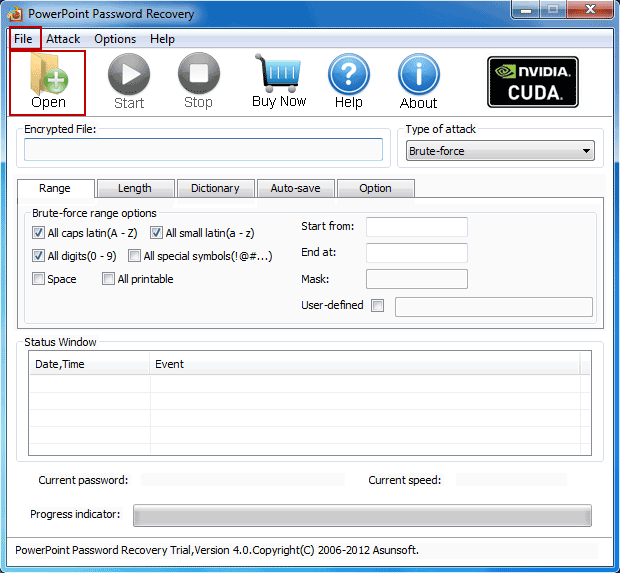 2. In Open File window, select the target PowerPoint file you forgot its password and then click Open button to load it to PowerPoint Password Geeker program.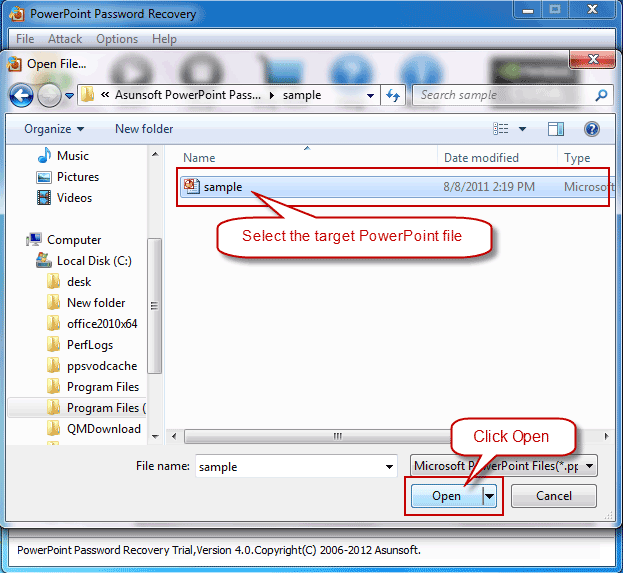 3. Now select a type of attack for your password recovery in line with your own situation.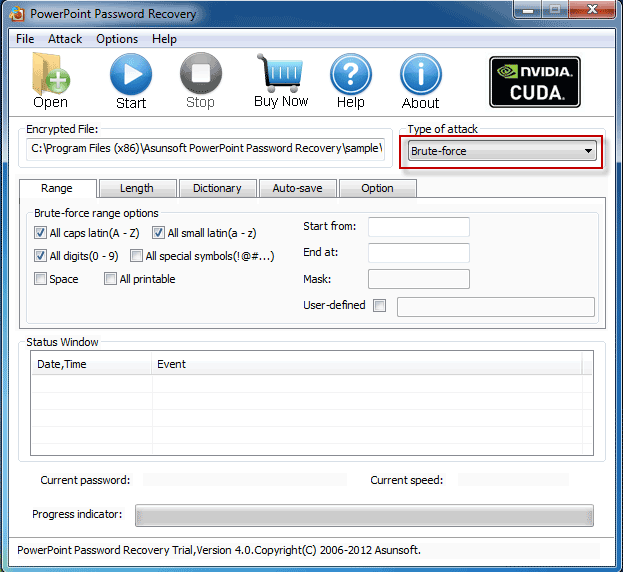 There are four types of attack: Brute-force attack, Mask attack, Dictionary attack and Smart attack respectively. If you remember nothing of your password, it is recommended to choose Smart attack; if you still remember parts of your password, it is better to choose Mask attack.
4. Make attack settings corresponding to the attack type you selected.
Brute-force attack: Specify rough password Range and Length.
Mask attack: Specify rough password Range and define a Mask as 8****6 if you remember your password consists of 6 characters starting with 8 and ending with 6.
Dictionary attack: Select the built-in dictionary AsunsoftDictionary or create a dictionary through a dictionary generator by yourself.
Smart attack: Make no attack setting if you choose Smart attack for it proceeds automatically and smartly.
5. Click Start button to start finding back your forgotten password. The time it takes to recover depends on the length of your password.
6. When your password is retrieved, you click Copy button to copy it first and then click Open button to open your encrypted PowerPoint file.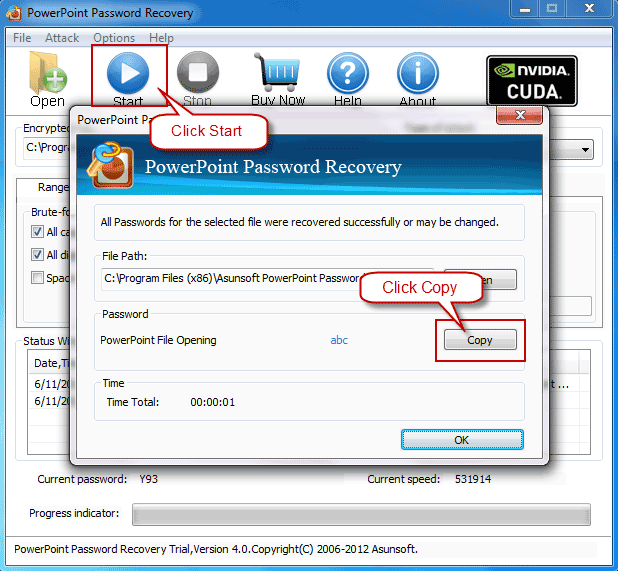 See! It takes only a few minutes to get your forgotten PowerPoint password back. If you make PowerPoint presentation quite frequently out of work requirement, then it is wise to have a professional PowerPoint Password Geeker at hand just in case password forgetting happens.