How to Use PowerPoint Password Geeker
PowerPoint Password Geeker is developed by Asunsoft and is desighed to recover forgotten or lost PowerPoint password and thus help regain access to the password-locked PowerPoint document. Refer to the following step by step guide of how to use PowerPoint Password Geeker to use it best.
I. Download and install Asunsoft PowerPoint Password Geeker
Download PowerPoint Password Geeker from Asunsoft official website and then install it ready for beginning recovery.
II. Import the target encrypted PowerPoint document
Run the installed PowerPoint Password Geeker, and then click Open button on the top left corner or click File menu and then select Open File sub-item.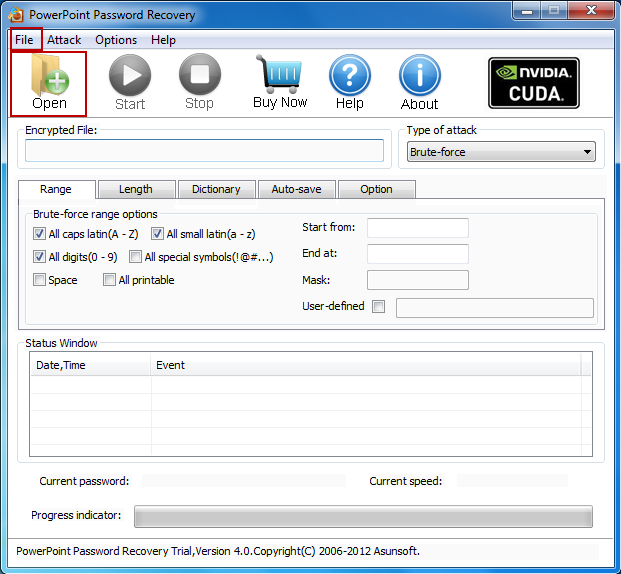 In the Open File dialog, browse and select the target password protected PowerPoint document.
Then click Open button in the Open File window to import the target file to the program.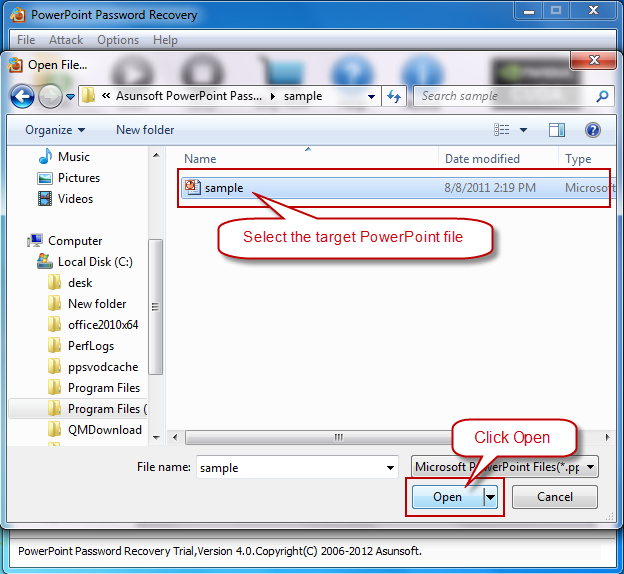 III. Select attack type and make attack settings
Click the pull-down list under Type of attack, and you can see four types provided: Brute-force, Mask, and Dictionary and Smart. You select one of the attack types.
Select attack type following the tips:
Brute-Force Attack will try all possible password combinations to find back lost password.
Mask Attack can largely reduce password recovery time if you still remember the lost/forgotten password partially.
Dictionary Attack can quickly find your password back if you use regular words or phrases for password which come in the range of built-in dictionary.
Smart Attack can automatically and smartly try all possible characters combinations including all printable characters like numbers, letters and marks.
Make attack settings corresponding to the attack types you chose roughly like the following instructions:
Brute-force attack: Range setting and Length setting narrow down the password range to make it more specific to recover.
Mask attack: Range setting and define a mask. To define a mask means to tell the program what you are still remembering of your passwords. If you are sure that your password makes up of 6 characters and starts with letter A, then you can define it as: A*****.
Dictionary attack: Click Dictionary tab next to Length and select the target dictionary, which can be the AsunsoftDictionary or a dictionary created by you yourself.
Smart attack: Smart attack recovers automatically and smartly and thus needs no attack setting.
IV. Start recovery and copy the recovered password t o open the password-protected PowerPoint file
Click Start button or click Attack menu and then select Start sub-item to start recovering your forgotten or lost PowerPoint password.
Click Copy button to copy the recovered password first and then click Open button to open the previously password locked PowerPoint file when you are in the following interface.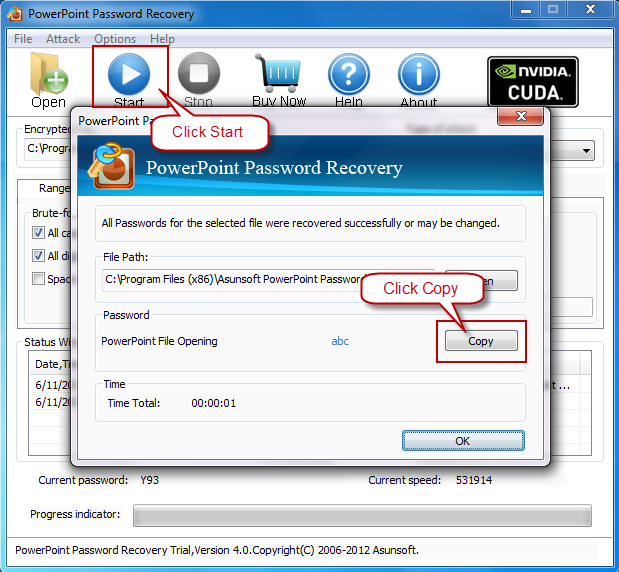 After you have successfully used it to recover your PowerPoint password, you can open, edit, copy and print your PowerPoint file freely.