Forgot Windows 8 Password no Reset Disk, how to unlock it?
"I forgot Windows 8 password to my laptop and have no password reset disk? Is the another way to create a windows 8 password boot disk to unlock my windows 8 laptop? Please help. Any idea is appreciated." - John
Hello, if you are locked out of your windows 8 computer, you have on change to create a password reset disk for unlocking your computer. However, you still have many changes to make a password boot disk with the third party password utility, such as Windows password Geeker, Chntpw, Kon-Boot, Trinity Rescue Kit and Ophcrack. I think the solutions in this article are useful for resetting a lost password, you can take it and have a try.
Get in the Locked Windows 8 Computer by Resetting Forgotten Password
Speaking of resetting forgotten Windows 8 password, there come multiple ideas in my mind. Now introduce three quite more acceptable options for you easier password reset.
Option 1: Reset Forgotten Windows 8 Password with Professional Password Tool
A professional password recovery tool can help you reset forgotten password without any requirements but another accessible computer with Internet and a small USB flash drive or CD/DVD disk. When you got the two, let's get started.

1. Use the computer with Internet to get the full version of Windows Password Geeker Advanced. Download and install it.
2. Run it and follow its intuitive on-screen steps to burn the software into the USB flash drive or CD/DVD disk.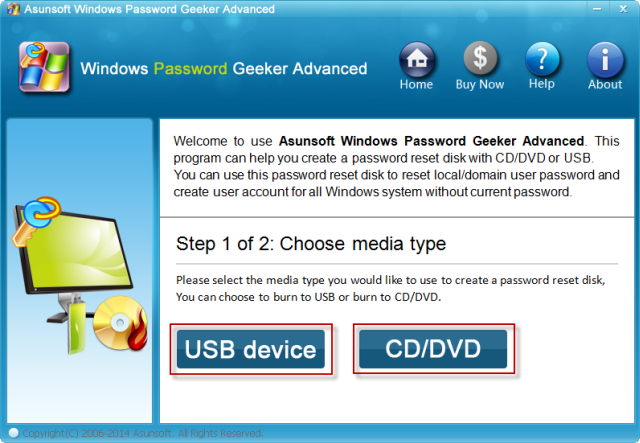 3. When burning successfully, transfer the USB flash drive or CD/DVD disk into the locked Windows 8 computer. Boot the computer from the USB flash drive or Boot from the CD/DVD-ROM Drive.
4. When the computer booted from the USB or CD/DVD disk, you can follow its on-screen steps to reset Windows 8 forgotten password. Select the target user account > Click Reset Password button > Click Yes to reset its password to blank > Click Reboot button when password was reset to Blank.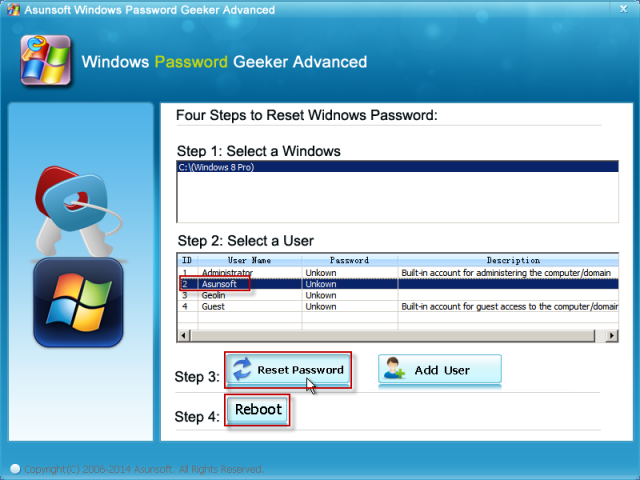 Option 2: Reset Forgotten Windows 8 Password with Any Accessible Administrator Account
Attention: Check whether there are available administrator accounts in your computer first before you follow this method.
Normally there must be at least one administrator account on your computer and later you may create administrator account by yourself from Control Panel. But if you forgot the password to the only one administrator account, then you can pass this method. Or follow the below easy steps:
1. Switch to log in with that accessible administrator account.
2. Press Window + R keys to open Run box.
3. Type lusrgmr.msc in the Run box to open Local Users and Groups window.
4. Expand Users folder, right click on the target account and select Set Password option.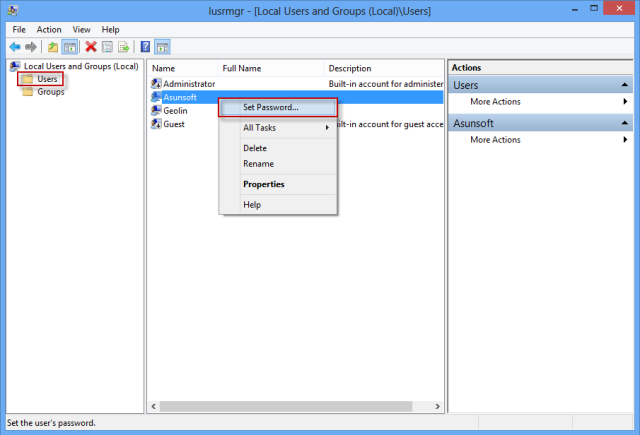 5. Click Proceed to type in new password and confirm it. Click OK button to continue resetting forgotten password.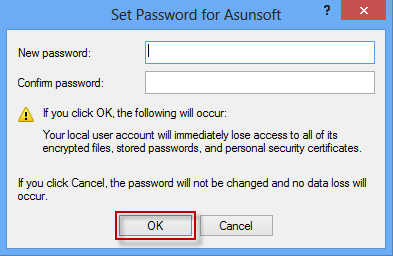 Option 3: Reset Forgotten Windows 8 Password with Built-in Administrator Account
When you install Windows 8 for the first time, it will ask you to create a user account. If you have created one, the system will disable it automatically as the built-in administrator account. If you skipped this, then the built-in administrator account is Administrator. If you are being locked out of Windows 8, you can enable this built-in administrator account by booting your Windows 8 from Safe Mode.
Attention: If you have created user name and user password for the built-in administrator account from the very beginning, but now you forgot its password as well. Then I have to regret to tell you that you can pass the method again.
1. Start or Restart your Windows 8 computer and press F8 key before the start up screen appears to enter Advanced Boot Options.
2. Select Safe Mode option and press Enter key.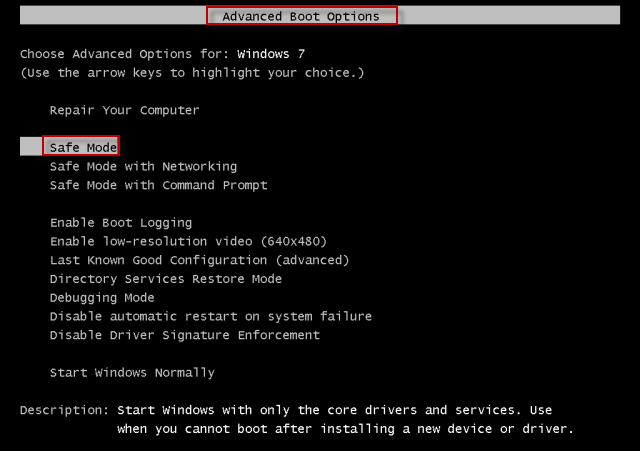 3. Select the built-in administrator account you created to log in the coming login screen. Or type Administrator and leave the password box blank if you didn't't create one.
4. When your computer is in Safe Mode, you can reset your forgotten Windows 8 password from Control Panel. Control Panel > User Accounts and Family Safety > User Accounts > Manage another account > Change the password/Remove the password.
Get in Locked Windows 8 Computer Taking Advantage of Windows 8 New Features
Compared with former Windows systems, Windows 8 has a new feature allowing users to access the computer with new and multiple means. Windows 8 supports four login means: Microsoft Account login online, Create a PIN code, Create a Picture password and traditional Windows password.
Login to Windows 8 with Microsoft Account/PIN Code/Picture Password and Then Reset Forgotten Windows 8 Password
1. Login Windows 8 with Microsoft Account and password/ a PIN code/ Picture password.
2. Press Windows + X keys and select Command Prompt (Admin) to open Command Prompt as administrator.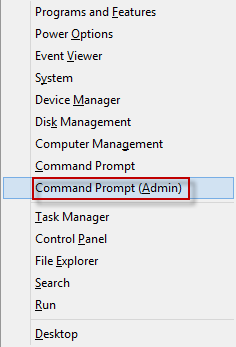 3. Type in the command: net user User-Name New-Password and press Enter key to execute the command.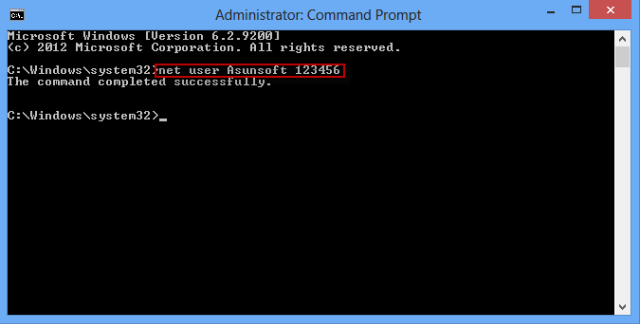 4. When you see the command completed successfully, you have reset your forgotten Windows 8 password.

If you haven't signed up for a Microsoft account, created a PIN code or a Picture password, you can do it now for more possibilities.
Set up sign in with a Microsoft account/Set a PIN Code/Set a Picture Password
1. Press Windows + C keys or Swipe the mouse cursor in the upper right corner or the lower right corner to bring up the Charm menu.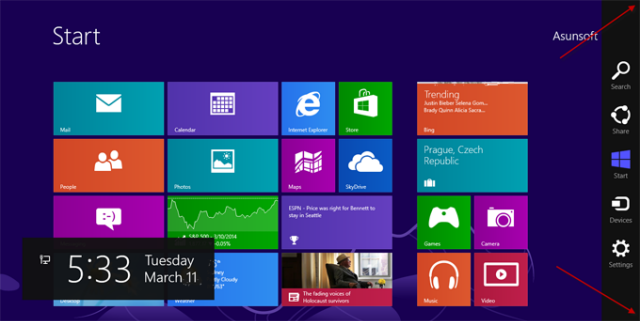 2. Click on Settings.
3. Click on Change PC settings.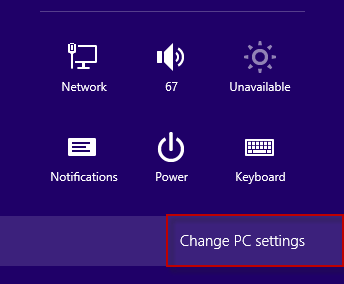 4. Click on Users option on the left.
5. Click Switch to a Microsoft account option under Your account and follow the instructions to finish signing for a Microsoft account.
Or click Create a picture password or Create a PIN option under Sign-in options to follow the instructions to finish creating a PIN code or picture password.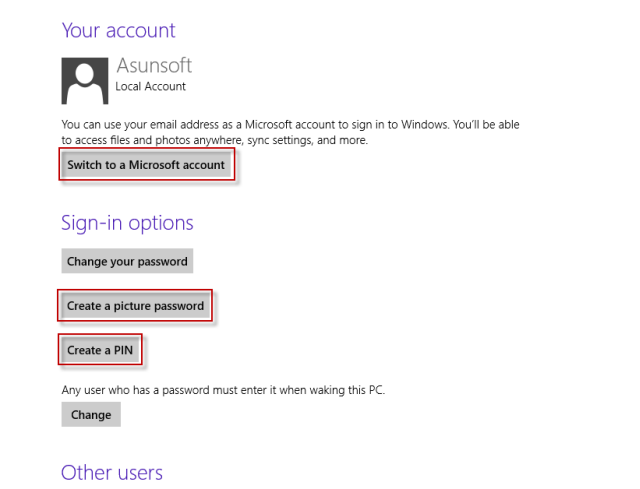 More About Windows 8 Password Reset: