How to Hack Windows 7/Vista/XP Password - For Real
Locked out of Windows and canmot access your PC? Why not simply hack into it by a simple way? Would you think about one way can hack Windows 7/Vista/XP password without losing files or changing original settings?
Some people may search for a free hack tool online and really there are some free tools can be used to hack into Windows operating system, such as Offline NT Password Editor, Ophcrack et. The former can hack a Windows password by removing it, the latter use cracking technology to recover the password. However, these two free ways have limitations that Offline NT may collapse the system if you don't appropriate with it, Ophcrack just can crack a password which made up of less than 5 characters.
Now I will show you how to hack Windows 7 password with USB flash drive easily and safely by two method. These method has no limitation regardless of how long and complex your password is. Hacking Windows Vista, XP password is the same as these way.
Method One: How to Hack Windows 7 Password by Removing It
1. Download Windows Password Reset Personal and install it on another computer you have access to.
Why do these on another PC? Because you were locked out of your PC and you need to hack it, right?
2. Run the software and create a Windows Password Hack Disk by burning it to a blank USB flash drive.
Why use a blank USB flash drive? Because all data in it will be lost while you burning another thing to it.
Step 1: Insert a blank USB Flash Drive, select burn to USB Device.
Step 2: In second step, select the drive name fron the doen list. Click Begin Burning.
Step 3: Successfully completed, remove your USB.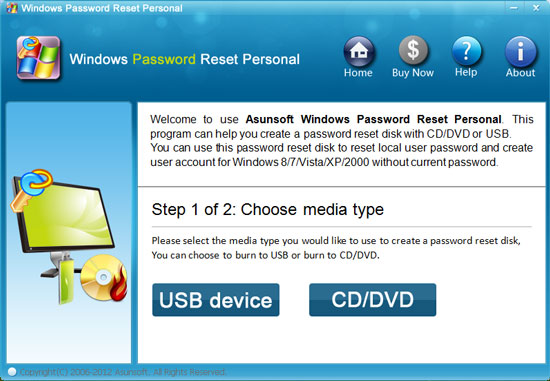 3. Set the PC you want to hack it to boot from your Hack Disk.
How to boot from the disk? It is very simple that you just need to reset device boot order in BIOS SETUP. If you still have any question, please refer to: How to boot from USB.
4. Hack Windows 7 password by a few clicks.
After booting from your hack disk, wait for a moment, Windows Password Reset Personal will run automatically and display a friendly window. New see how to hack a Windows 7 administrator password.
Step 1: Click administrator account from the user list and click Reset Password button.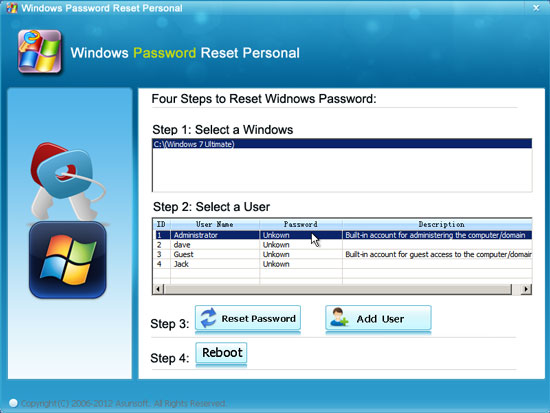 Step 2: When a comfirm message pops up, click Yes.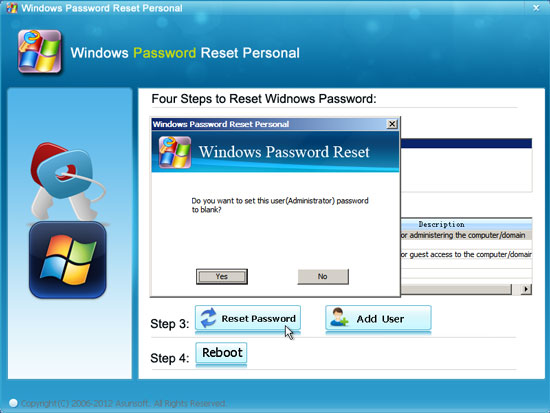 Step 3: The administrator password now shown "blank"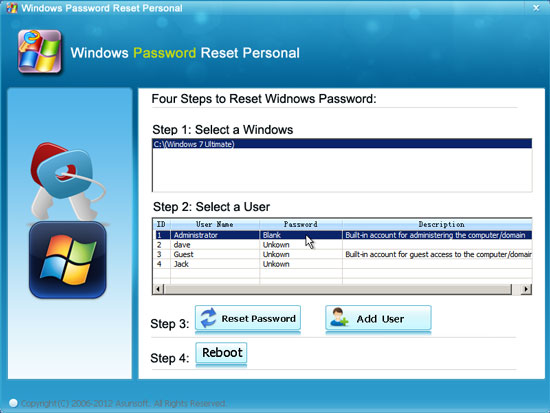 Step 4: Click Reboot button, when a confirm message appears, remove you hack disk first and click Yes. You computer will restart immediately. Then you can access Windows 7 admnistrator without password!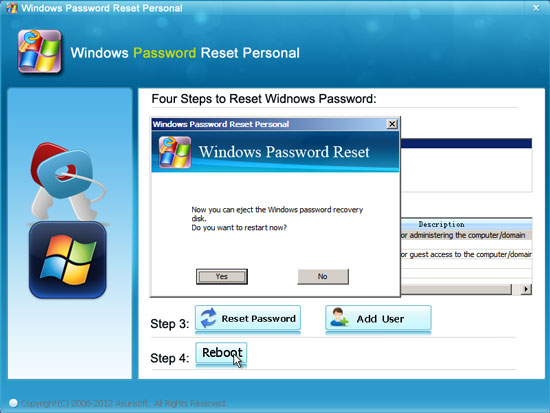 Is it easy? All the process just take you several minutes. This method is available for all brands of laptop and desktop such as: Dell, HP, Compaq, Acer, Toshiba, Samsung, Fujitsu, Sony, Lenove, Gateway ...
If you want to hack Windows 7 without changing any user password, you can do this:
Method Two: Hack Windows 7 by Add New Administrator User Account.
Accomplish procedures from 1-3, then you will see the friendly operating window. Don't reset any user password, just click Add User button. When a dialog appears, type a new user name and password, click OK.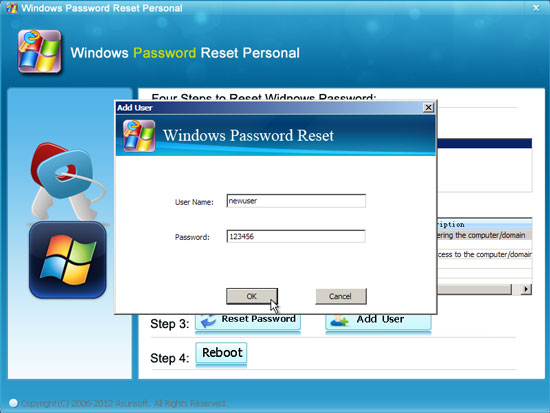 Click Reboot, when a confirm message pops up, remove your hack disk first and click Yes to reatart your computer. Then you can login Windows 7 with new user and password. This trick is to create a new administrator to Windows 7 offline.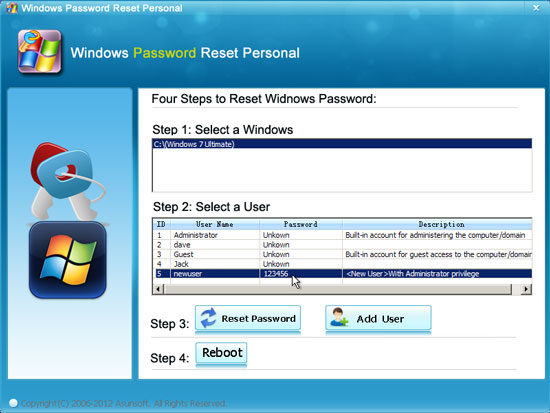 What's next? Download the software to have a try? But the trial version just can be used to reveal all users account of your Windows system, only full version can reset password. Purchase the full version to of "Windows Password Reset Personal" hack your locked PC now!