How to Recover Lost Data from SSD
SSD(Solid-State-Disk) is widely used on our computer from tablet to workstation. At the same time, the phenomenon of losing data on SSD happened more and more frequently. This article is to teach us how to solve the problem--How to recover lost files from SSD.
Before introducing how to recover lost data from SSD, when you lost your files, there are some things we should notice first.
1. You should maintain the original site when the phenomenon of losing files happened. Don't add any new data to the SSD which you have lost files on.
2. Don't do some operations to the computer. For example, don't run any application which may write data to the ssd. If a running program will add data to the SSD, stop it by Task manager.
3. Get a professional data recovery software. Recommended one is Asunsoft Data Recovery.
4. If the lost file resulted from virus attack, you should shut down your PC and plug out the power adapter right now.
Restore Lost Data from SSD by Asunsoft Data Recovery
Asunsoft Data Recovery is a useful tool for us to recover lost data. It can recover lost files from hard drive, SSD, USB flash drive, MP3/MP4 players, and other removable storage devices. And also it can support many kinds of formats. It recovers lost files caused by accidental deletion, partition, formatting, software crash, virus attack or other reasons safely and completely.
Steps to recover lost data from SSD
Step 1. Download Data Recovery and run it on your computer.
Step 2. Choose a Recovery mode and click "Next". If you deleted files by accident, you can choose Deleted Recovery. The introduction of other modes you can refer to the interface of Asunsoft Data Recovery. Click any Recovery Mode among the four modes, you will see some introduce of the mode on the interface.
Step 3. Select the drive or SSD that you want to recover and click "Scan". Notes: Connect your SSD with computer, if your SSD is an external device.
Step 4. Choose the file that you want to recover in the list and click "Recover".
Wait for several minutes and then the prompt bar will pop up when recovery finished.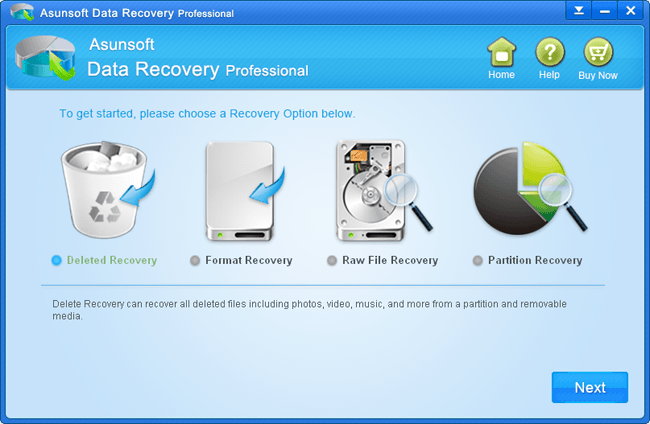 Related Articles:
External Hard Drive Data Recovery - Find Back Your Lost Files
How to Recover Deleted Files from Various Cards
USB Data Recovery - Recover Deleted/Formatted Data from USB Flash Drive