How to Enable Hibernate Mode in Windows 8
What if you have to leave your computer but you don't want to power off your computer.  Windows 8 provides you two options, that is, sleep mode and hibernate mode. The two have their own advantages and disadvantages. But if you want to enable hibernate mode, you will found that when you reach the Power menu, it has no Hibernate option except Sleep, Shut down or Restart. Then how to enable Hibernate mode in your Windows 8?
About Hibernate Mode
Hibernate writes your machine's current state to a temporary hard drive file, then shuts down completely (much like "off" state). When you start it up again, it loads that file and returns you to where you left off. When your computer is in hibernate mode, the already saved data won't be affected even power failure happens. Besides, all parts are out of power, and thus the power consumption is very small. It can also effectively keep others off the data in your computer when you leave. Your computer can be in Hibernate mode even for days.
How to Enable Hibernate Mode in Windows 8
Step 1: Access to your system's power settings by whichever means. You can first of all enter Control Panel and choose System and Security and then choose Power. Or else you can adopt another quicker shortcut directly. You hold Windows key and then tap the letter W to bring up the settings search menu and then type in Power.
Step 2: Click Change what the power buttons do.
Step 3: Click Change settings that are currently unavailable.
Step 4: When a window shows you, you find the "Shutdown settings" section.
Step 5: Tick in the checkbox before Hibernate to enable it.
Step 6: Click Save changes.
Now when you reach your power button, you will see the option Hibernate.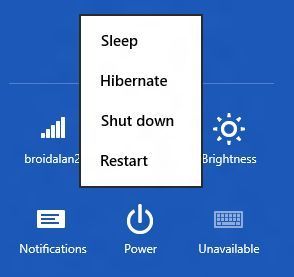 But one point want to mention here is that after you have enabled Hibernate mode, system will generate a hibernate file located on your root system partition with a similar size of your physical memory. So make sure you have enough space before you decide to enable Hibernate mode in your Windows 8. If there is not enough space in your computer and you have no need to enable it, you can disable it to save more hard disk space.
Related Articles: