Windows 2000 Password Recovery - Best Way to Reset Windows 2000 Password
Forgot your Windows 2000 administrator password? If you're using Windows NT or any versions of Windows 2000, you can reset the administrator user account password by using a simple trick and hack that involves default screen saver, beside using free password recovery system or apps. With Asunsoft Windows Password Reset method, users can easily reset the admin user account password, without knowing or remembering existing password. It not only can reset lost Windows 2000 password, but also newer Windows operating system such as Windows 7/Vista/XP, Windows 2008/2003 Server.
To reset the local administrator's password on Windows NT and Windows 2000, I highly recommend Windows Password Reset Professional to you, which can easily reset Windows local administrator/user password without knowing the existing password. In fact, our purpose is to regain access to Windows 2000 without losing files or settings.
If you want to reset domain admin password on a Domain Controller (DC) running on Windows NT or Windows 2000, Please refer to this fast and secure method: Reset Active Directory Domain Password in Windows Server 2008/2003/2000. Now let's see how it works:
Step 1: Download and install Windows Password Reset Professional on anther computer that you can access it as administrator and connect to internet. Then run the software to create a Windows 2000 password recovery disk.
1. Plug in a writable USB/Pen drive, select USB Device or CD/DVD option.
2. Specific the drive name in the pull-down list. Click Begin Burning button, it will complete burning process for you.
3. After successfully complete burning, transfer the recovery disk to your locked computer.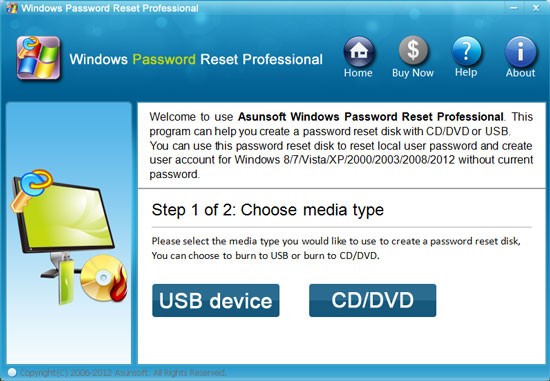 Step 2: Plugin your Windows 2000 password recovery disk to your computer and boot from it.
In this step you have to change the boot priority of computer devices. Don't worry about if it would damage your Windows system or disturb your settings, this step just let your computer boot from USB and after you successfully resetting your password you can reset it to original setting simply by the same way you did. If you have any questions you can refer to this section: How to Boot from USB. After done, continue to next step.
Step 3: Reset/Remove Windows 2000/NT password.
Windows Password Reset Professional offers two options for you to back to your Windows 2000 operating system.
Option 1: Reset user password.
1. After booting from USB, Windows Password Reset Professional will start automatically. You will see a friendly interface of it. Click an user account from list and click Reset Password. When a confirm dialog appears, click Yes.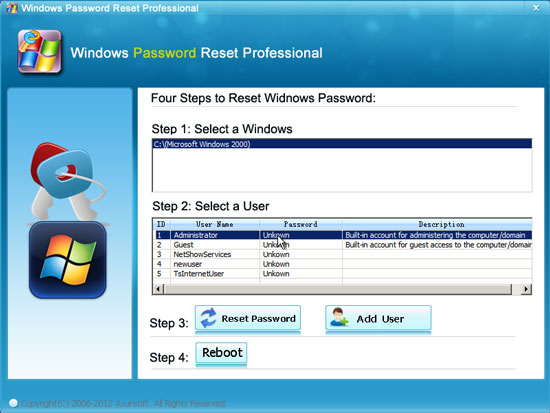 2. You will discover that the unknown password has been reset as blank, it means that the password has been removed.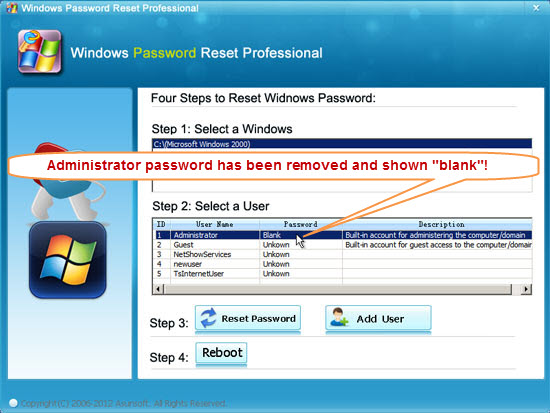 3. Click Reboot button, take out your USB disk and click Yes when a message pops up. After restarting, you can login Windows 2000 without password.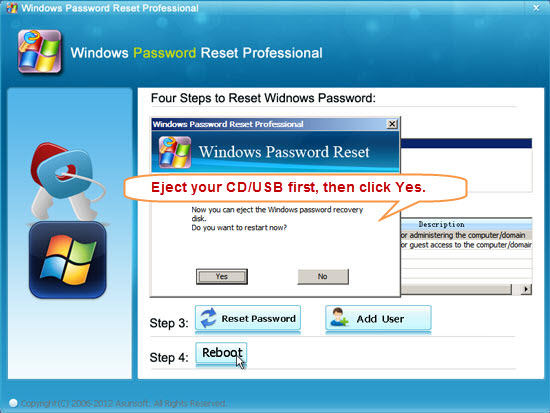 Option 2: Create new administrator user account.
1. Click Add User button. Type in a new user name and password then click OK when a dialog appears.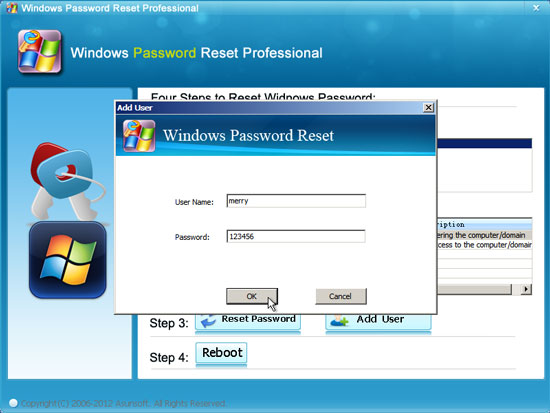 2. Click Reboot to restart your computer. Note that you must take out your USB first when a dialog pops up. Then click Yes. After restarting, you can login with this new user account without using others.