Five-in-one Tool to Recover Password for Microsoft Office
When you deal with frequently used Office programs in daily work, you would set a password to protect Office documents containing important information. Then what if forgot Word document password to open it, or forgot PowerPoint password while you were going to give a presentation or the excel password to update its data?
Is there one effective way to solve all Office documents password forgetting problem well? You got it! Now here I introduce one tool which can equally recover your password for Microsoft Office, include Access, Excel, Outlook, PowerPoint and Word.
Five-in-one Tool to Recover Password for Microsoft Access, Excel, Outlook, PowerPoint or Word
No matter which Office document password you forget, Access, Excel, Outlook, PowerPoint or Word password, Asunsoft Office Password Geeker can help you recover equally. With such a five-in-one Office Password Geeker in hand, feel no panic whenever Office password forgetting happens unluckily.
1. Click the link to free download Asunsoft Office Password Geeker and install it.

2. After installation, it may run automatically and show you its main interface. You click Open button or click File menu to choose Open Files sub-menu to open encrypted Office documents.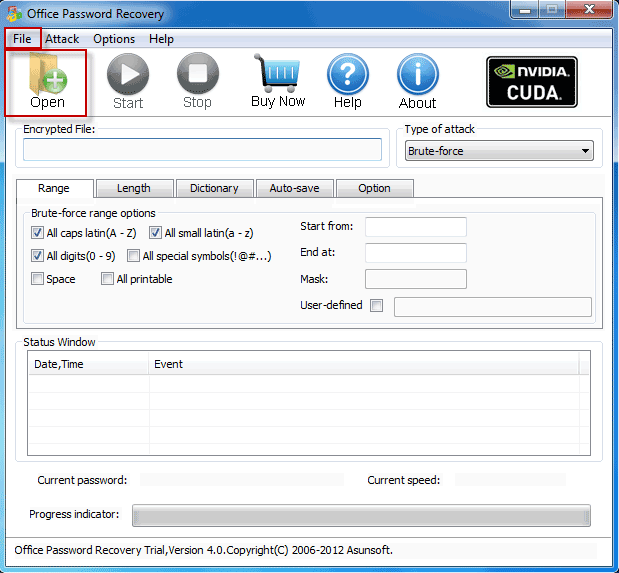 3. In the Open File dialog box, select and click Open button to open the target encrypted Office document which can be Access database, Excel file, Outlook pst, PowerPoint presentation or Word document.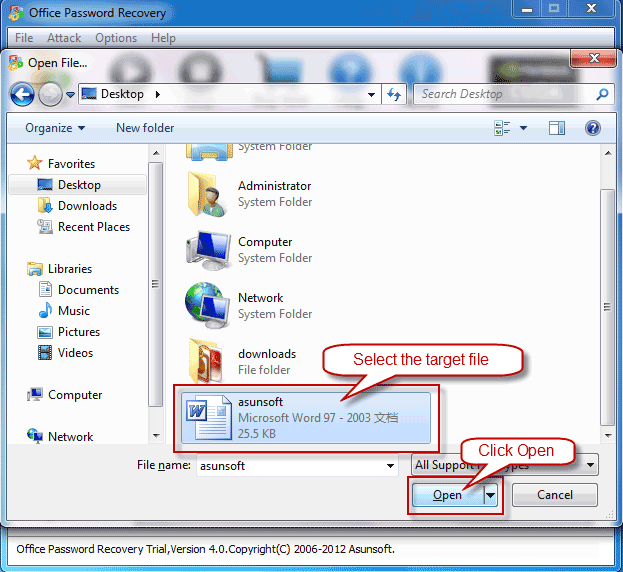 4. Select a type of attack for Office document password recovery.
Select Brute-force Attack if you remember nothing of your password.
Select Mask Attack if you can still remember parts of your password.
Select Dictionary Attack if you use regular words or phrases for your password which just come in the range of Asunsoft built-in dictionary or the dictionary you created with words or phrases you frequently use.
Select Smart Attack allows you to start the recovery without any more manual settings. It recovers automatically and smartly without any attack settings. It is the highly recommended type to choose when remember nothing.
5. Make attack settings corresponding to the attack type you selected.
a. Range setting is for Brute-force attack and Mask attack to specify and narrow down the range of password.
You can optionally choose options All caps latin (A-Z), All small latin (a-z), All digits (0-9) or other options accordingly.
Do fill in a Mask on the right hand if you choose Mask attack. For example, if you still can remember your password made up of 6-charcters and started with the number 6, you can fill in with the mask: 6*****.
b. Length setting is for Brute-force attack only to set a Minimal and Maximal password length.
c. Dictionary setting is for Dictionary attack.
Select a dictionary: The dictionary can be Asunsoft built-in dictionary, a dictionary downloaded from the Internet or a dictionary created by you yourself.
Choose other options Smart mutations, Try all possible upper/lower case combinations or Convert to OEM encoding freely.
6. Click Start button or click Attack menu to choose Start sub-menu to start recovering Office documents password.
7. Click Copy button to copy the recovered passwrod and then click Open button to open Office documents with the copied password.