HP Password Reset - Reset Windows Password for HP Laptop/Desktop/Minibook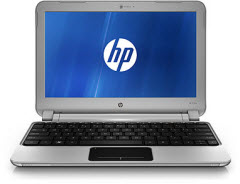 Are you using HP serial desktop or laptop? HP has been famous for her excellent brands many years, such as Compaq Presario CQ, HP Pavilion dv and HP Compaq series. How to reset HP Windows password when you forgot HP password? Here are some HP password recovery solutions for HP desktop/laptop/Minibook Windows password reset no matter which version of Windows you installed, Windows 7, Vista, XP, Windows server 2008, 2003 or Windows 2000.
Method 1 Reset HP Windows 7/Vista/XP password by login as administrator.
If you have another available administrator account, it is very easy to reset a forgotten user password.
Step 1. Login administrator account on your HP PC.
Step 2. Click start, open Control Panel - User Accounts.
Step 3. Select a user account you wanna reset its password, choose change/remove password option.
Step 4. Type your new password and confirm it. If you choose remove it, just click YES to finish.
If you are using Windows XP, you also can reset HP password in Safe Mode. There is an hide Administrator account created with blank password while you installed XP. Now a HP password recovery solution appears:
Step 1. Restart your HP PC, press F8 as soon as possible until the advanced option interface appears.
Step 2. Try to login administrator without password.
Step 3. Open Control Panel - User Accounts and Groups - User Accounts, click an user and choose change/remove password.
Method 2 Use free password recovery tool for HP laptop password recovery.
If you forgot HP password and have no HP password reset disk, you can try a free Windows password recovery tool, Offline Password & Registry Editor, which can be used to reset HP laptop password that installed Windows NT/2000/XP/2003/VIST/WIN7/2008. Note that it just can reset Windows local user password. For domain password recovery, you can use another popular software, Windows Password Geeker Advanced, to reset domain administrator/user password. Get to the point, here are the main steps to recover HP Windows password:
Step 1: Download Offline NTPassword & Registry Editor on another available computer.
Step 2: Use a burning tool to burn the Offline Windows Password & Registry Editor ISO image to a bootable CD.
Step 3: Boot your HP laptop from CD via changing device boot order in BIOS SETUP.
Step 4: After Offline NTPassword & Registry Editor start up successfully, resetting HP laptop password by a few steps in DOS interface.
In consideration of the complex operations of the process which requires the basic knowledge of linux shell and it is also depend on different computer or different Windows Operating System, I highly recommend you to use Method 3.
Method 3 Reset HP desktop/laptop password with "Asunsoft Windows Password Reset Professional".
Asunsoft Windows Password Reset Professional is a six-in-one application which can recover all Windows local administrator and user's password for HP Windows 7, Vista, XP, Windows server 2008/2003/2000. Regardless of how long and complex your password is. So you don't need to reinstall the system or call in a PC technician. Reset HP Windows password by yourself. It is very easy.
Step 1: Download and install Asunsoft Windows Password Reset Professional on any other computer you can access as administrator.
Step 2: Run the software to create a HP password recovery disk by burning it to a bootable CD/DVD or USB Flash Drive. The software attach a burning tool in it and the process of burning is automatically and quickly.
1. Plug in a bootable USB flash drive, choose Burn to USB Device.
2. Select the drive name from the pull-down list.
3. Click Begin burning button.
4. Successfully complete burning, transfer the it to your HP desktop or laptop for HP password recovery.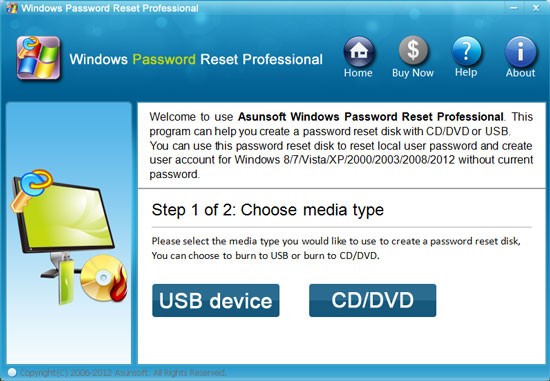 Step 3: Set your HP desktop/laptop to boot from CD (if you create a password recovery CD) or USB drive (if you create it with USB). If you have trouble in this step, please refer to:
How to set computer to boot from CD/DVD.
How to set computer to boot from USB drive.
Step 4: After your PC boot from the HP password recovery disk, Windows Password Reset Professional will start automatically and display a friendly interface. Click an user account from list and click "Reset Password". Then click "Reboot", eject your disk and click Yes when a confirm message pops up. After restarting you can login this User account on your PC without password.
If your Windows is Windows 7/Vista/XP, The password will be removed and show "blank".
If your Windows is Server 2008/2003/2000, the password will be reset as Asunsoft@2012.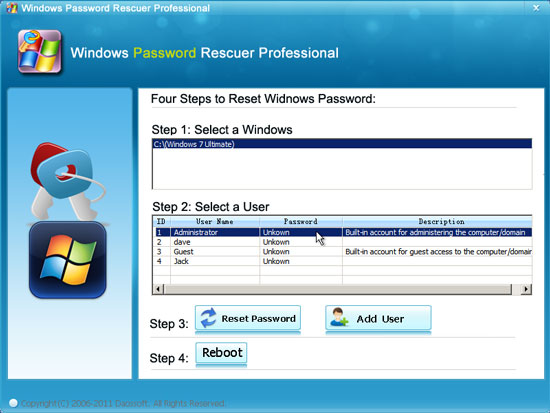 Asunsoft Windows Password Reset also allows you to create a new user with administrator privileges for your HP OEM Windows. The process is off-line. So you also can use this function to hack into your HP laptop or desktop. This method also can be used to reset HP Mini Windows password.