How to Recover Deleted Files in Windows 7/8
Have you regretted in deleting files too quickly? Have you ever been upset about data lost by accident? Or have you been afraid of data loss resulted from virus attack? To solve all these your worries is not a question because you still have chance to get all them back completely. In fact, when you lost your files, you didn't lose them actually. What we lost or deleted is not the real files, but the index of the files which point to the real files on hard drive, so the file contents still stay on the hard drive. As long as you use professional data recovery software, you can find back the index of lost files and recover your deleted files. We have the software - Asunsoft Data Recovery which can help you get your files back no matter what the reasons are you lost files, such as deleted by "Shift + Del", formatted by accident or virus attack, etc. This article gives targeted guide on how to recover deleted files in Windows 7/8 and in fact it can be equally applied to other Windows systems.
Detailed Introduction to the Asunsoft Data Recovery
Asunsoft Data Recovery software not only can work in every version of windows OS, but also supports MAC OS. It has the ability to recover deleted/formatted/corrupted files from SD hard disk, memory card, USB flash drive etc. Meanwhile, it supports many kinds of formats, including picture, video, music and many other formats. According to different reasons the lost files resulted from, Asunsoft Data Recovery provides four modes for you to choose from.
Deleted Recovery. It can restore all deleted files including photos, video, music and so on, which is deleted by pressing "shift+del" or emptying the recycle bin.
Format Recovery. It adapts to restore data which is formatted by accident or virus attack.
Partition Recovery. It can recover, backup and restore partition table, and then recover all lost data in partition or drive.
Raw File Recovery. It enables deep scan to find the lost data. If you can't find the lost data by using other modes, you can choose this mode. It's the ultimate mode to recover data.
Guide on How to Recover Deleted Files in Windows 7/8
1. Download the Asunsoft Data Recovery and run it on your computer running Windows 7 or Windows 8.
2. Start the software, and when its main interface shows, you choose the recovery mode according to your own situation. For example, if you deleted files by "Shift+Del" or empty recycle bin, you can choose Deleted Recovery mode. Other situations refer to the detailed introduction as above please.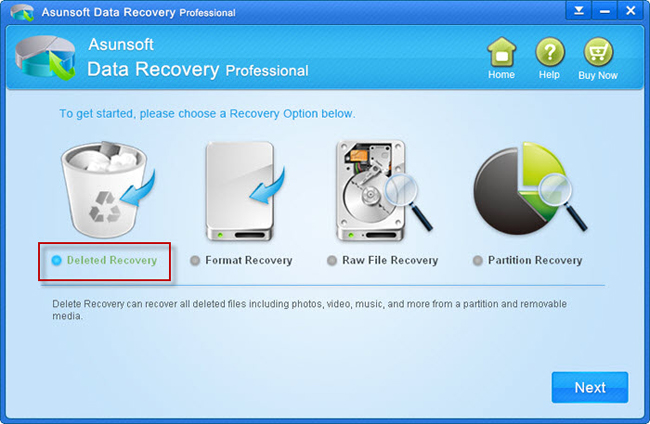 3. Press "Next" button to choose the partition or drive where your lost data is. If your deleted files are on a removable device, you have to connect it to your Windows 7/8 computer first and make sure that the removable device can be recognized and assigned a drive letter.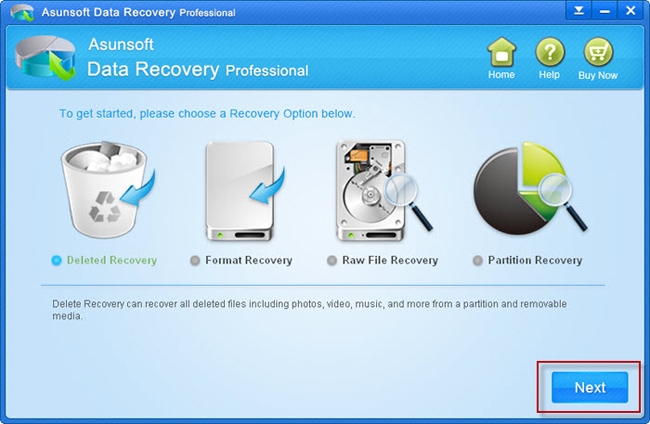 4. Click "Scan" button to find the lost files.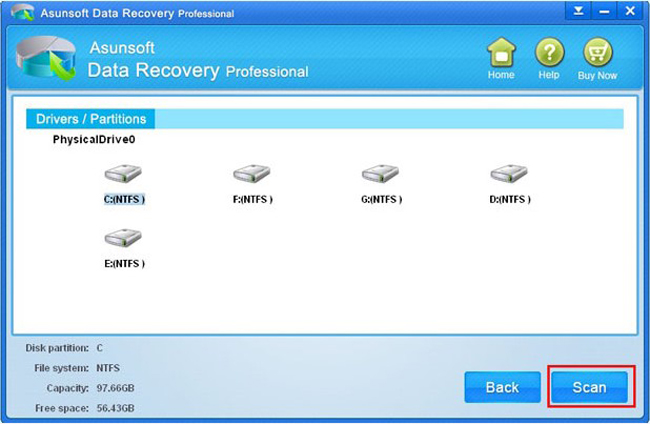 5. Select the lost file you want to recover in the list and click "Recover" button to restore it. Notes: the recovered data can't be saved with the same place where the lost data in in case of being overwritten.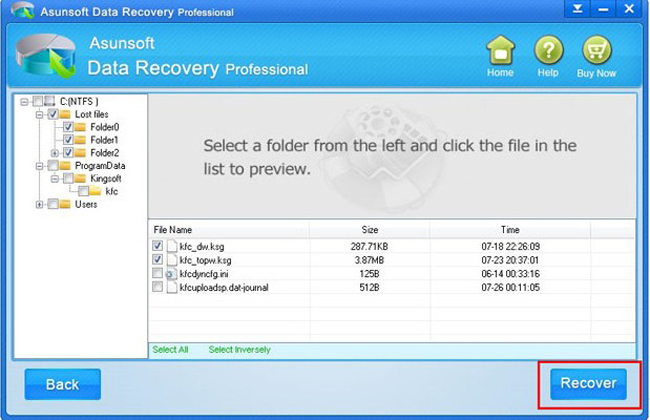 Wait for several minutes until the prompt bar Recovery is finished appeares. Any question in the process that you want to select it again, you can click "Back" to reset it.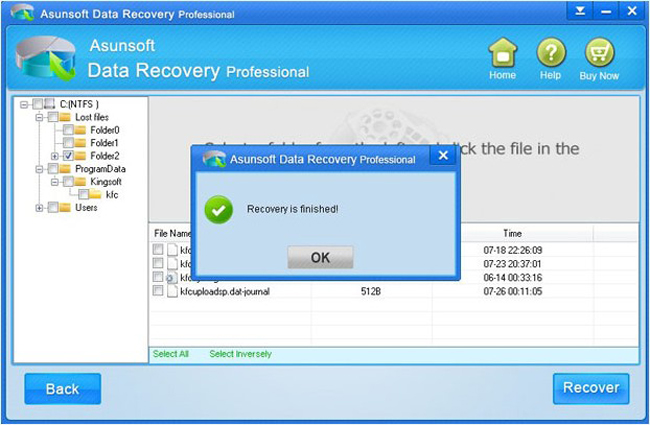 Related Articles:
How to Recover Lost Files in Windows
External Hard Drive Data Recovery - Find Back Your Lost Files