Run the Command Prompt as Administrator in Windows 8
Command Prompt is a screen where you type in commands that you would like to execute. Normal command prompts cannot allow you to launch programs that require administrative privileges directly. While an elevated command prompt allows you to run any programs and to perform all tasks with administrative privileges. So you can run the command prompt as administrator when neccessary from Control Panel.
But unlike previous Windows Operating Systems, there is no conventional Start Menu in Windows 8 which provides an option to run the Command Prompt directly. Then what can you do if you want to open an elevated command prompt in Windows 8? Read on and here are three options for you.
Option 1: Open from Windows + X Power Users Tasks Menu
1. Right click in the bottom left corner of your screen or else press Windows + X combination keys.
2. Then you will see the Power User Tasks Menu, here you choose Command Prompt (Admin) like the following screen shows. Then it will open up a Command Prompt with administrator privileges.
Option 2: Open from Search Apps
1. The charm bar will appear automatically when you move your mouse cursor to the bottom right corner of the screen. You click on the App icons and type in "cmd" in the search box to search.
2. In the search results, you will see the option Command Prompt. You right click it and then choose Run as administrator option.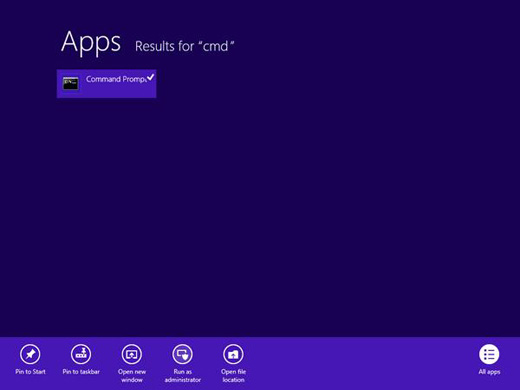 Option 3: Open from File Explorer
1. Open File Explorer (Windows Explorer) and locate to the folder C:\Windows\System32.
2. In the folder System32, you will see the file cmd.exe. You right click it and then choose Run as administrator item is ok.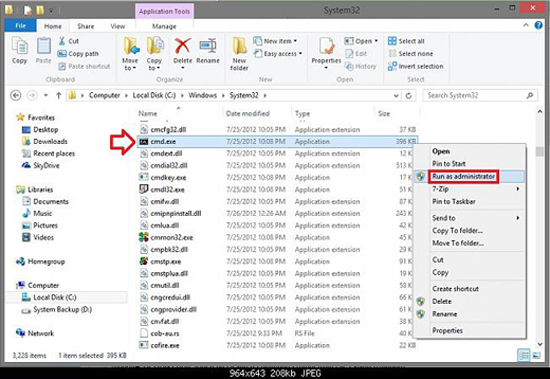 Related Articles: