I forgot the password to my laptop how to get in?
" Help please! I forgot the password to my laptop and cannot get in my laptop. My laptop was installed windows 8 ultimate 64 bit, it has two user accounts, one is administrator, and one is King. I forgot the login password to King user, and I have password for administrator account, but administrator is disabled. I have tried to use Chntpw to remove the password for the king user account, but it did not work. It cannot find the Windows 8 system of my laptop. Does somebody can tell my how to get back the password or get into my laptop? I will be very appreciated." - Kingdom
Do you encounter the same problem as above and you are finding a way to get into your computer? If so, please don't try any operation to reinstall the system or reset the your laptop to factory mode before your try the following solution to fix the problem. Forgetting a login password to laptop is not a big deal, you can find many ways to reset the laptop password and get into it without any data lose.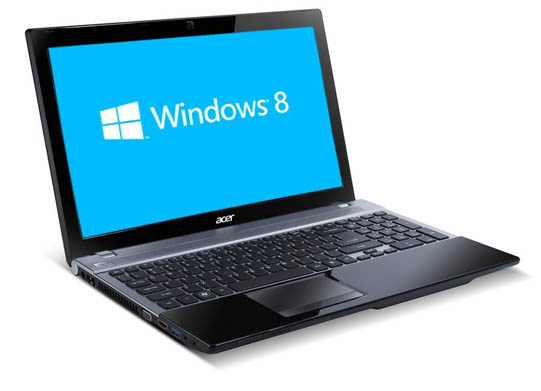 1. Have a reset disk.
When you are trying to find a way to get into the locked laptop, I think you don't have a reset disk, so using the windows password reset disk to reset your laptop login password and get into to your laptop is not a right way for you. If you want to learn more about creating and using windows password reset disk, please see Create a password reset disk and Reset Windows Password with password disk.
2. Forgot password to laptop - reset it with third party reset disk.
Forgot password to your laptop and unfortunately don't have a password disk. The easiest way to solve the problem is to get a third party software and use it to create a third party reset disk offline. This part I tell you how to use Windows Password Geeker to create a reset disk and use it to remove the forgotten password for your laptop. Step by step guide as below:
Step 1: Get Windows Password Geeker and install it to your computer. It can be install in windows xp or later.
Step 2: Run Windows Password Geeker and follow the wizard to create a USB password bootable disk.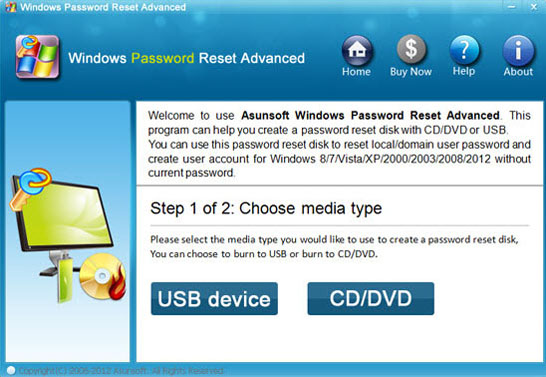 Step 3: Unplug the password bootable disk boot disk and insert it to the laptop which has been forgotten password.
Step 4: Set the laptop to boot from USB flash drive and boot the laptop from the USB password disk.
See How to set computer to boot from USB drive.
Step 5: When Windows Password Geeker program start, select a locked user account, and reset it password.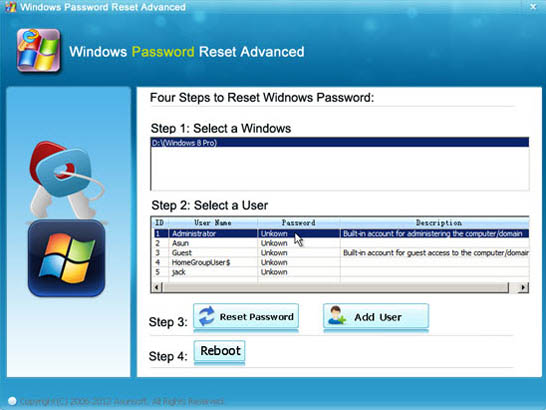 Step 6: Restart the laptop and you can login with the user account whose password has been removed.
3. Reset or recover the forgotten password for laptop with free program
If you don't want to use the third party password software, you can try free password program. Compare with the premium program, free password programs need more computer skills and they don't work perfect with all laptop and windows. Chntpw and Ophcrack are the most famous free and opens source password programs. Chntpw is a command line program which can remove the local user password for Windows 8/7/vista/xp/2003 easily and quickly. It supports creating a USB or CD boot disk. You can see the step by step guide here http://pogostick.net/~pnh/ntpasswd/. Ophcrack can help you find the lost password for the locked user account, however it may fail to work when the password is long, and it may fail to found the windows on latest laptop and computer. You can get Ophcrack and see the guide here http://ophcrack.sourceforge.net/
3. Get into laptop by safe mode - for Windows xp
If your laptop was installed a Windows XP system, you may have change to get into your laptop by safe mode, because Windows xp have a administrator account with empty password by default. You can try to press F8 to boot your computer from safe mode when you power on your laptop. On log on screen of safe mode, you will see administrator account, and you login administrator account with password.
4. Reset laptop to factory mode
If you don't care making data lost, you can reset your laptop to factory mode. When you do that, all installed program and all data on C:\ drive will be lost. See How to factory reset laptop when forgot password.