How to Recover Your RAR Password with A Few Clicks
RAR, short for Roshal Archive, is used for data compression and archiving. It is of great help if you have to send a big pile of data or you have to take it with you. It can save considerable space for you. For important and confidential data, we tend to set a password to protect. Then how to open RAR quickly and effectively if you have forgotten your RAR/WinRAR archives password?
Take it easy. Asunsoft RAR Password Geeker can help you quickly reocver password for your encrypted RAR archives with only a few clicks. It offers four professional attack methods to recover RAR password. It is easy-to-use and has a high speed, supports running in all versions of Windows Operating System.
Here's How to the Recover RAR Password
1. Download the free trial version of Asunsoft RAR Password Geeker and install it. After installation, it will run automatically.

2. Click Open button in its main interface and then select it and open it in the Open File window.
Click Open button first.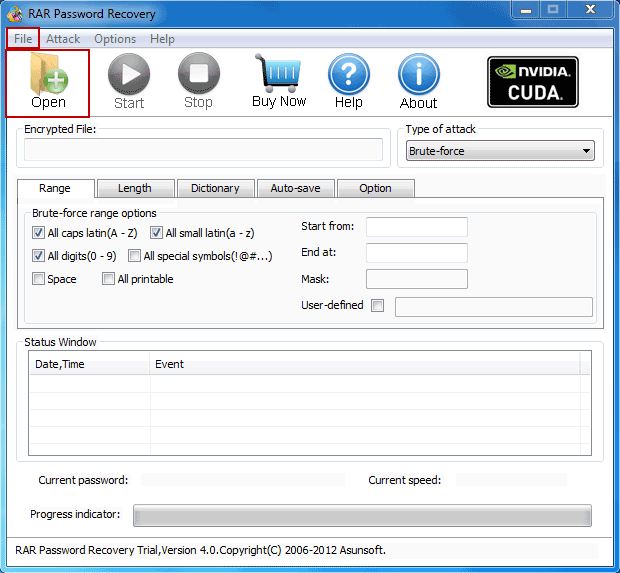 Then select the target RAR file that you forgot its password and click Open button.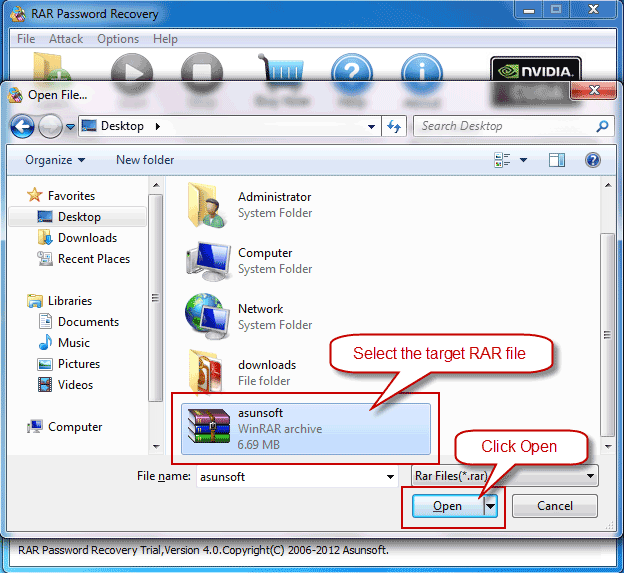 3. Choose a type of attack according to your own situation. Briefly speaking, if you still remember parts of your password, Mask attack is the best for you. If you remember nothing of your password, Smart attack is the highly recommended one for you.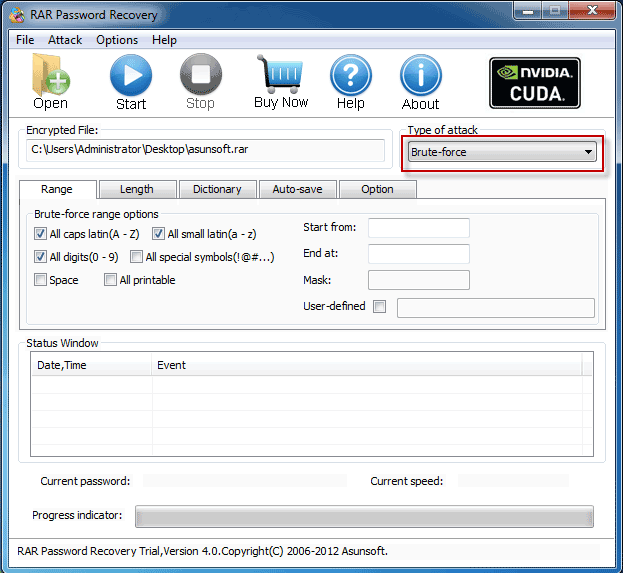 4. Make attack setting corresponding to the attack type you chose.
Range setting is for Brute-force attack and Mask attack.
If you password consists of upper-case and lower-case letters with numbers, you choose options All caps latin, All small latin and All digits. Also All special symbols, Space and All printable accordingly.
Mask option in Range setting is for Mask attack only. If you remember your password is 10 characters starting with A and ending with 8, you can fill in the Mask as A?????????8.
Length setting is for Brute-force attack only. You choose the Minimal password length and the Maximal password length.
Dictionary setting is for Dictionary attack only. You select a dictionary which can be the built-in AsunsoftDictionary or the self-made dictionary or a dictionary downloaded from the Internet. Besides, you can choose other provided options.
5. Then you click Start button to order the program to recover your forgotten RAR password according to your settings. When the recovery completed, you click Copy button to copy the password first.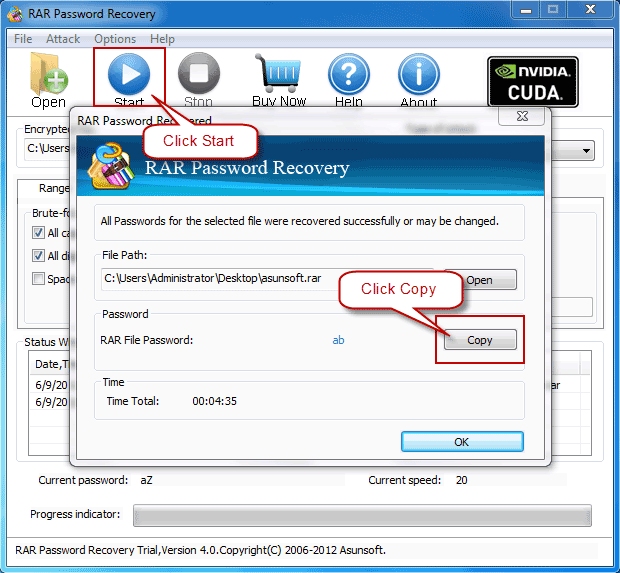 6. Then click Open button and then when Enter Password box appears, paste the copied password to open encrypted RAR file.