Locked Out of Windows Because of Your Password Expiration
My work computer prompted me that my password has expired and now I cannot even login to the desktop screen. What's more, a former coworker has set this password and I don't know what the password is at all and I cannot contact him at present. Besides I have important data on disk C, so it would be the last to reinstall system. I wonder is there some other better solutions to this occasion?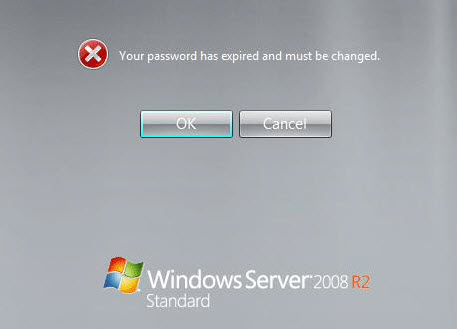 Locked out of Windows and cannot login in because of password expiration? This occasion usually happens when you haven't used a computer for a long time or that you didn't change the password according to the prompt timely. Generally, the default time limit that allows users to change their password before expiration is 14 days. While in Windows 7 and Windows Server 2008 R2, the default time limit is 5 days only. If you neglected it and left it alone, then you will be locked out of the Windows days later.
In this tutorial, we'll explain how to fix this issue in two cases to help you log back into your Windows without reinstalling the system.
Case One: Password Expired without Knowing Current Password
For whatever reasons you don't know your current password, you will not be allowed to change the expired password from the login screen. Under this circumstance, you have to reset your password. At the same time of resetting, it will disable the password expiration of your user account. To reset your password, you can download Asunsoft Windows Password Geeker Professional and burn it to a blank USB flash drive or CD/DVD disk to create a password reset disk on another computer, then boot your target computer from the reset disk to reset your password following its on-screen steps. More detailed information you can refer to this link: http://www.asunsoft.com/windows-password-geeker.html.
Case Two: Password Expired Knowing Current Password
If you didn't change your password timely when a prompt remind you to change, you may be not able to login to your Windows next time you start your computer. The reason you didn't change may be that it is not you who able the password expiration and you have no idea about this stuff or you want to bet to see what will happen if you don't change. Under this circumstance, you can boot your computer into BIOS setup mode and try to roll back the BIOS clock. Start your computer normally and press Del/F1/F2 or other keys to enter BIOS setup screen according to hint on starting screen. When it is in BIOS setup mode, set the BIOS clock back to a given time at which the password was still not expired to gain another chance to change your password.