Product Key Geeker User Guide
Have you bothered for losing a product key when you reinstall a software and need to buy the key again? If you're preparing to reinstall a program or an operating system (like a clean install of Windows), you will need to find your unique product key (CD key) or serial number. Normally this product key is located with the original CD or DVD. If you've lost your product key you can often find it in the Windows Registry but this can be very difficult to do. Luckily, there is a powerful program available to help: Asunsoft Product Key Geeker.
Product Key Geeker is a handy software which can help you easily find product key and serial number for for currently installed software, such as Windows 8, 7, Vista, XP, NT, Server 2008, 2003, 2000, Microsoft Word, Excel, PowerPoint, Access, Outlook, Internet Explorer, Visual Studio, SQL Server, Exchange Server, VMWare, Adobe and many other products. Only need one click, all product key in your computer will be displayed. It works perfectly with any computer, even the hard disk is crashed. Now let's see how to use Asunsoft Product Key Finder to find out the product key and serial number on a sample computer.

Step1. Download Product Key Geeker and install it on your computer. It is small but powerful.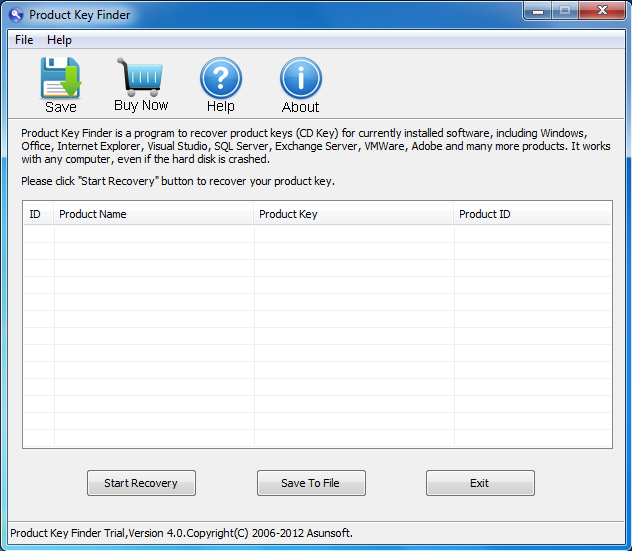 Step2. Find product key by just one click.
Click "Start Recovery" button, then the program will automatically find product keys from currently installed Windows, Office, SQL Server, Exchange Server, Visual Studio, VMWare, Adobe and many other products.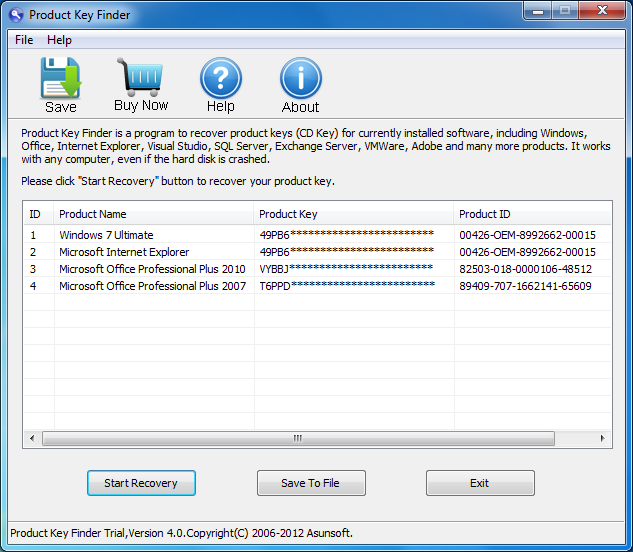 Step3. Backup Product Key
Click the "Save To File" button to backup your recovered product keys to a secure location. It will be saved as a txt file.