Acer Password Reset - Windows Password Reset on Acer Laptop
What can I do if I forgot Acer laptop password to Windows 7/Vista/XP? If you are using Acer Aspire or TravelMate laptop, reset a forgotten Windows password on Acer laptop is similar with that in common desktop. Here are three simple solutions for Acer password recovery, help you quickly regain access to your latop when you are locked out of Acer Windows 7, Vista or XP.
Solution 1 Recover Acer password with Acer password reset disk
In Acer laptop, Windows 7, Vista or XP alllows people to create a password reset disk to prevent password lost. When you forgot Acer Windows password, just need to use this disk to simply reset the password. Well, here we take Windows 7 password reset disk for example. follow these steps when you lost Acer Windows 7 password.
Step 1. Start your Acer laptop, when the welcome interface appears, login your user account with incorrect password, then system will show you a link to reset password.
Step 2. Click the link which line under the password box, a password reset wizard appears.
Step 3. Insert your Acer password reset disk and click Nexet to continie.
Step 4. Select the drive name which you inserted, click Next.
Step 5. Type a new password and confirm it, click Next - Finish. Then you can login to the account with new password.
Solution 2 Acer password reset by using an available administrator account.
If you luckly have an user account which has admin privileges, you can easily reset Acer Windows password with CMD or Lusrmgr.msc. CMD is more safe because you won't lose anything after resetting the password. Your local user will immediately lose access to all encrypted fils if you use lusrmgr.msc to reset user password. Now let's see how to reset Acer Windows 7 user's password with CMD.
1. Logon your administrator account on Windows 7, open Run box or Search box.
2. Press both Win and R keys to open Run Box, type cmd in it press Enter key. or Click Start, type cmd in the Search box and press Enter key, open CMD.EXE.
3. CMD window appears, type in net userand press Enter key to review all users accounts of your Windows 7.
4. Type net user "user name" "new password" (replace "user name" and "new password" with yours), press Enter.
5. You will see Command completed successfully, it means that you have successfully replace the user's password. Now you can restart your PC and login Windows 7 with new password.
Solution 3: Professional password recovery software help you reset Acer laptop password easily and safely.
If all other methods can not help recover your password, you can use Asunsoft Windows Password Reset Professional, which can easily reset any Windows password without losing data such as Windows 7, Vsita, XP, server 2008/2003/2000. It supports all brands of desktop and laptop. Experiences proved that "Asunsoft Windows Password Reset" is fast and easy-to-use. No need to lose any imformation, no need to reinstall your Windows system. Follow these steps to complete Acer password reset:
Step 1: Download Windows Password Reset Professional and install it on an accessible computer.
Step 2: Insert a bootable CD or USB pen drive, run the software and create a Acer password recovery disk.
1. Plug in a USB flash drive or pen drive, choose Burn to USB Device.
2. Select the drive you want to burn to. Click Begin Burning to start byrning.
3. Complete successfully and transfer the USB to your locked Acer laptop or desktop to recover Windows login password.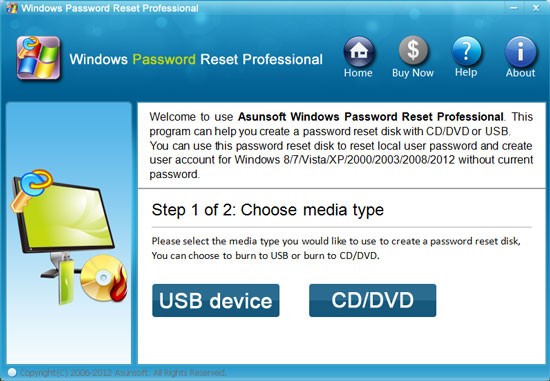 Step 3: Set your Acer desktop/laptop to boot from the disk, two options.
Option one, create a CD recovery disk and set your Acer PC to boot from CD-ROM.
Option two, create a USB recovery disk and set your Acer PC to boot from USB.
Step 4: After booting from the disk, you can reset any user's password of Windows on a friendly interface, just need a few clicks.